Other considerations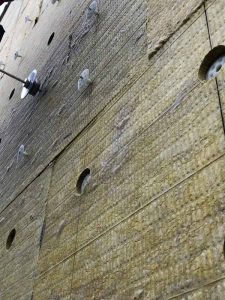 When contemplating the design of a wall assembly calling for mineral wool insulation, there are other factors to include in the equation.
Air and moisture control
Per ASTM C612-14, whatever cladding configuration is chosen, the system should include an effective air and moisture barrier, ideally with a secondary moisture protection plane. The dual function of the air and moisture barrier component prevents condensation caused by air leakage, protects the substrate from water damage, and prevents any migration of moisture to the interior.
Detailing solution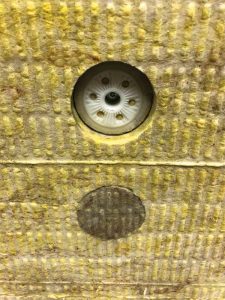 The mineral wool specified should include compatible products for detailing at joints, seams, and rough openings and for transitioning to other materials used in the wall's construction. Assuming the mineral wool edge is encased with a solid rigid material, such as a reinforced cementitious EIFS basecoat, a low modulus silicone joint sealant can serve as a transition material since it can accommodate movement without imposing high stress on the sealant-to-mineral wool interface. Tests such as ASTM E1382, Standard Test to Method for Determining Tensile Adhesion Properties of Sealants When Used in Exterior Insulation and Finish Systems (EIFS) Joints, should be conducted to verify compatibility of sealant and bond strength.
Wind load calculation
Since wind loads can determine the number of fasteners used, appropriate calculations should be made to determine the effects of wind pressure on the installed insulation.
Fastener longevity
Moisture cannot damage the hydrophobic insulation itself, but over time it can corrode non-protected fasteners. The fasteners chosen should either be stainless steel or come with a corrosion-resistant protective coating. Standards such as ASTM B117, Standard Practice for Operating Salt Spray (Fog) Apparatus, and Deutsches Institut für Normung (DIN) 50018, Sulfur Dioxide Corrosion Testing in a Saturated Atmosphere, may be used to evaluate the effectiveness of corrosion-resistant protective coatings.
Impact resistance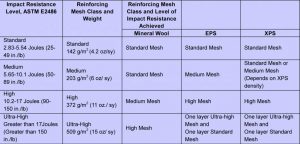 For EIFS, a heavy reinforcing mesh layer or other fortifying design enhancements are recommended for ground floors and other areas at risk from everyday impacts or abuse. The use of mineral wool in EIFS increases the impact resistance of this durable cladding when similar basecoat and mesh laminas are compared between mineral wool and traditional EIFS insulation layers. ASTM E2486, Standard Test Method for Impact Resistance of Class PB and PI Exterior Insulation and Finish Systems (EIFS), is customarily used to evaluate performance. Comparative results for mineral wool-, EPS-, and XPS-based systems are shown in Figure 1.
Adding enhanced fire protection to any façade system incorporating air, water, thermal, and vapor control layers makes mineral wool a logical value-add for exterior wall systems. Considering these additional benefits, it would make sense to investigate the integration of this highly capable insulation into the design of the façade.
Karine Galla is product manager for Sto Corp. She has more than 16 years of experience in product marketing regarding EIFS, stucco, air and moisture barriers, and other materials. Galla has a master's degree from the University of Lyon, France. She holds the Association of the Wall and Ceiling Industry's (AWCI's) EIFS Doing it Right and Building Envelope Doing it Right certifications, as well as the International Organization for Standardization (ISO) Internal Lead Auditor certification from Georgia Tech. She can be reached via e-mail at KGalla@StoCorp.com.