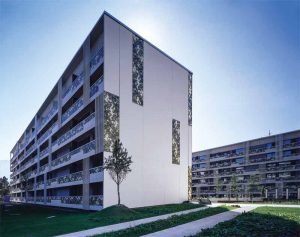 Attributes
The insulation's appeal to designers and specifiers is based on several key performance characteristics.
Thermal performance
Mineral wool provides a barrier for counteracting the natural tendency of heat to flow from warm to cold surfaces. This heat transfer can take three forms:
conduction;
convection; or
radiation.
Mineral wool insulation prevents convection by holding air static in the matrix of the wool. It also stops radiation (i.e. the migration of heat via electromagnetic waves) and limits the conduction of heat via adjacent molecules in the insulation material. As a result, the migration of heat is reduced.
The specific effectiveness of mineral wool in reducing heat transfer depends on structural properties such as density, thickness, composition, and fineness, as well as the mean temperature at which it is used. For exterior applications, the industry standard R-value for mineral wool is typically R-4.3 per inch and the thickness range of the board is 25 to 178 mm (1 to 7 in.). However, the precise requirements for a particular project depend on local variations in temperature, moisture, and humidity.
For example, one may choose a thin, high-density product to satisfy R-value requirements while reducing water absorption in hot, humid climates. On the other hand, one may opt for a thick, lower-density product to satisfy R-value requirements in a cold, dry climate where water absorption is less of a concern.
In terms of thermal performance, it is also important to know mineral wool is tested to ASTM C518, Standard Test Method for Steady-state Thermal Transmission Properties by Means of the Heat Flow Meter Apparatus, or ASTM C177, Standard Test Method for Steady-state Heat Flux Measurements and Thermal, post-manufacturing as part of the quality control (QC) process. Additionally, since mineral wool does not contain any blowing agents, it is not possible for air to diffuse into the material and replace agents that have already circulated out of it. In other words, it is a fibrous material, and its thermal conductivity will not deteriorate over time. Loose-fill rock and slag wool insulations resist settling, and batt products spring back after average compression, so installed thermal performance is maintained over the life of the product.
Fire resistance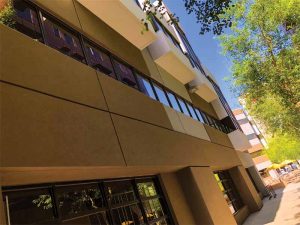 Since they are mostly inorganic, mineral wool insulations are naturally noncombustible, and will not burn or release harmful smoke and hot gases. The binder used within mineral wool is, however, organic and will thermally degrade around 260 C (500 F). At the same time, testing has shown binder release does not occur in high enough concentrations to be considered harmful. Per ASTM E119, Standard Test Methods for Fire Tests of Building Construction and Materials, the insulation can resist temperatures in excess of 1093 C (2000 F) for at least five hours, and because the products have a high melting point, they can be used in a wide variety of applications calling for these fire-resistive characteristics. Mineral wool insulations generally meet National Fire Protection Association (NFPA) 220, Standard on Types of Building Construction, and ASTM E136, Standard Test Method for Behavior of Materials in a Vertical Tube Furnace at 750 C. They are a Class A product tested per ASTM E84, Standard Test Method for Surface Burning Characteristics of Building Materials, and NFPA 101, Life Safety Code. Hence, mineral wool insulations are used as passive fire protection in many wall assemblies.
Since mineral wool is naturally fire-resistant and does not require a thermal barrier, it has been tested as a proven firestopping material in numerous perimeter fire containment designs through penetration, firestopping, and construction joints, including precast exterior wall structures and open-joint cladding systems such as rainscreen façades. There are many advantages to rainscreen systems in terms of aesthetics, durability, and ease of maintenance. However, the cavity wall integral to rainscreen systems also has the potential to act like a chimney that could allow the flames and smoke to move upward in the event of a fire. Mineral wool is typically used at floor lines as a fire break in such systems to eliminate this form of fire risk.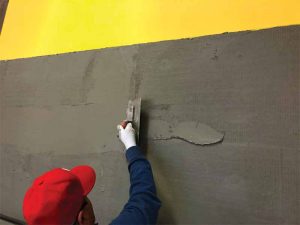 Permeability
Mineral wool is vapor permeable and has a permeance rating of up to 50, meaning water vapor can readily diffuse throughout the material. The insulation will not retain water, and stays intact even when wet. It is designed to handle condensation, driving rain, and any other moisture that may be introduced into the wall assembly, allowing it to drain and dry quickly and enabling the building to 'breathe.' This makes a difference in drained and ventilated wall systems in particular because they invariably allow some water to penetrate the cladding and come in contact with the insulation. Since the insulation is air/vapor permeable, it provides better control over humidity, condensation, and air quality.
Sustainability
Mineral wool products are typically made from more than 50 percent post-industrial recycled content and contribute to energy conservation and to the achievement of green building certifications. Slag wool earns additional kudos for sustainability because it is comprised of 70 percent or more recycled steel industry waste. Further, and similar to other insulation types used in exterior continuous insulation (ci) systems such as EIFS, mineral wool can help cut heating and cooling energy consumption and substantially reduce greenhouse gas (GHG) emissions over the life of the building.