Challenges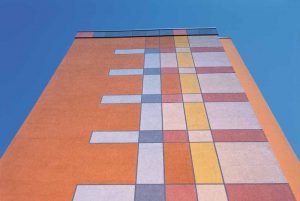 The collective virtues of mineral wool have influenced its increasing use in the exterior of the building, particularly when assessments of fire risk, noise intrusion, energy waste, and moisture control call for an all-in-one solution. ASTM C612-14, Standard Specification for Mineral Fiber Block and Board Thermal Insulation, classifies seven types, with two grades for Type V depending on whether they require a heat-up schedule. The classifications are based on the maximum ambient temperature, linear shrinkage, water vapor absorption, and specified surface burning characteristics of the installed insulation. Some mineral wool manufacturers have made great strides in refining and enhancing their range of products—for example, by compressing and crimping the wool for tensile strength and delivering batts to provide rigidity and consistent R-value. They also provide the opportunity to utilize a greater range of dark color options via the plaster finishes used in an EIFS assembly. Traditionally, EIFS has incorporated expanded or extruded polystyrene (EPS or XPS) as the insulating layer, and manufacturers of these boards have recommended a maximum sustained service temperature of no more than 75 C (167 F) because the board will begin to deform at high temperatures. Mineral wool EIFS, on the other hand, is capable of dark colors as heat absorption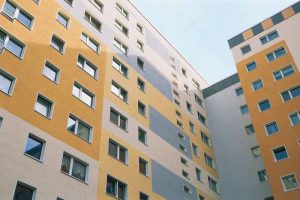 characteristics will not affect the insulation layer.
Still, applying mineral wool to the building exterior comes with some challenges. The standard practice for rainscreen façades is to attach the insulation with a combination of adhesive and rails. EIFS, on the other hand, uses a dowel fastening system in which a combination of washers and fasteners are face-mounted. These face-mounted fasteners can potentially 'read' through the finished wall surface if not mounted flush with the insulation board surface or, in extreme cases, if mounted on façades experiencing frequent wetting or condensing cycles.
Steps, therefore, need to be taken in the design and installation of any EIFS assembly to compensate for this. With 76-mm (3-in.) or thicker insulation, certain dowel systems can be countersunk, reducing effects of frequent wetting or condensing. A recent collaboration between wall system and mineral wool manufacturers has yielded a ci system with an integrated mineral wool component attached in a way designed to minimize thermal bridging. The dowel system holding the insulation in place is made from a material with extremely low thermal conductivity, and employs a plug or cap as a thermal break between the fasteners and the finished exterior wall surface. This results in reduced thermal transmission, thus preserving the superior insulating characteristics of the insulation itself.