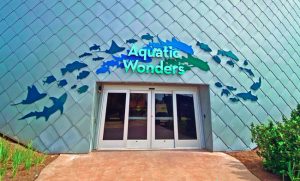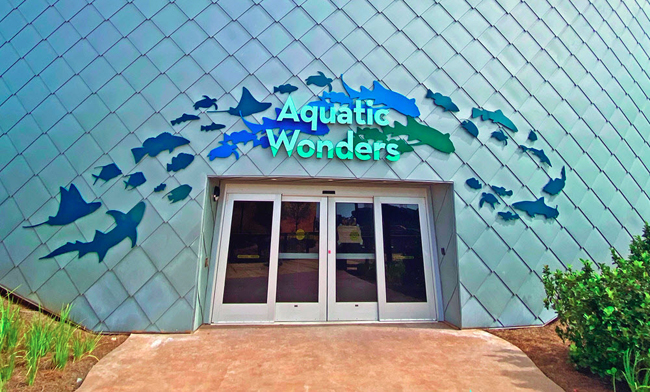 The Mississippi Aquarium welcomes visitors to downtown Gulfport's latest destination attracting both residents and tourists. Its three main buildings showcase a distinctive, scaled pattern using 16,000 zinc tiles fabricated in a blue-gray material. With a potential lifespan of 100 years or more, this resilient, natural metal supports both the Aquarium's economic and environmental goals.

Set on 2.3 ha (5.8 acre), the aquarium's exhibits and buildings are connected by landscaped walkways with plants representing all seven physiographic regions of Mississippi. Three main buildings house the Aquatic Wonders exhibits, Changing Tides building, which is an event space, and the ticketing services and gift shop.
The blue-gray panels clad each of the three buildings. Their complex, curved geometric shapes present a welcoming, distinctive look with a dynamic, evolving appearance that develops a natural patina over time. In addition to the zinc material's unique aesthetic, the wall panels maintain their self-healing, low-to-no-maintenance, corrosion-resistant performance for many decades.
Creative collaboration
"From an architectural perspective, we wanted to be unique. Our buildings are guitar pick shape with odd angles and they add a distinctive look and color to the skyline. The contrast of the buildings and the white sails give a spectacular view," said Kurt Allen, president of Mississippi Aquarium.
The aquarium's design and details were refined by Eley Guild Hardy Architects (EGH) along with the aquarium design specialists at PGAV Destinations PC of St. Louis. For more local expertise with projects in Downtown Gulfport, EGH also added Christian Preus Landscape Architecture, Uzun+Case structural engineers, and Brown, Mitchell & Alexander, Inc. (BMA) consulting engineers to contribute to the aquarium's project team.
Construction considerations
General contractor Roy Anderson Corporation (RAC) oversaw the construction project. Working closely with RAC, the manufacturing company fabricated and installed the zinc flat-lock wall tiles on all three buildings using more than 36,922 kg (81,400 lb).
Cladding complexities
All of the aquarium's three buildings feature diamond flat-lock wall tiles installed by in a scaled, offset, overlapping pattern. The rounded, guitar-pick forms of the buildings are composed of three curved walls that splay outward as they rise.
Since every building is differently sized and shaped, it took some strategic geometric planning to layout and scale the panels appropriately, said EGH's Thomas Allen, AIA. "Each building's panels are custom-sized to make all of them look uniform in their overall massing. It is a forced perspective. Hopefully, you will not be able to notice the difference."
At four stories and 2062 m2 (22,200 sf), the Aquatic Wonders building is largest of the three and uses 610 x 610-mm (24 x 24-in.) zinc tiles. The mid-size, 1263-m2 (13,600-sf) exhibit building has 508 x 508-mm (20 x 20-in.) tiles that clad the entire façade include its parapet and dramatic canopy.
At 502 m2 (5400 sf), the smallest building uses 406 x 406-mm (16 x 16-in.) tiles to scale the ticketing area and Gulf Shop. Sheltering visitors from Mississippi's occasional rain, EGH inset the ticket windows and entrances, allowing the walls to provide an integrated covering. Where needed, custom trim, flashings, and other detailing from the same material were used to make the wall tiles.
Patina and perpetuity
"It [zinc] is a homogenous material and it has a lifespan much longer than other products," said EGH's Allen. "Many other wall claddings—aluminum, prefinished metal, even stainless steel—would start to fade and pit after many years in these coastal conditions."
Allen also praised the material's aesthetic virtue and endurance saying "the zinc material begins with a consistent blue-gray color and, as it ages, its patina continues to gain character from the salt air and climate. They get more beautiful as time goes on. Similar to copper, it evolves instead of fails."
Proven performance
Since 15 years ago Hurricane Katrina's flood levels topped at 7.5 m (24.5 ft), the elevation of the project site was raised to 7.6 m (25 ft) and complemented by a seawall surrounding the aquarium.
Flooding, high winds, fade, corrosion, and rust were all concerns expressed by the aquarium's executive team, designers, and contractors. EGH specified 1-mm (39-mils) thick flat-lock panels to meet the project's multiple performance requirements. Tests were conducted to ensure the zinc tiles could withstand hurricane-force winds of up to 281 kmh (175 mph).
Ahead of the zinc material's installation, a plywood fire-treated exterior-grade substrate was set in place. Next a thick liquid waterproofing coating was applied, temporarily giving the structures an orange hue.
The field team anchored each zinc tile in place with sealed, concealed fasteners.
"It is complicated and hard work, but it makes for great pull out strength, while sealing all the holes well. You should never have to remove the fastening clips, but if necessary, the tiles can be removed," said EGH's Allen.