MIT project explores design potential of mass timber
by nithya_caleb | August 20, 2018 9:40 am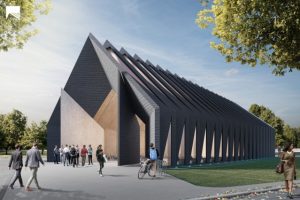 A project developed through a Massachusetts Institute of Technology[2] (MIT) class has come up with an energy efficient design for a large wood building. For this structure, called "the Longhouse," massive timbers made of conventional lumber would be laminated together like a kind of supersized plywood.
The design will be presented in October at the Maine Mass Timber Conference[3] at the University of Maine's Wells Conference Center[4].
The structure designed by the class uses laminated veneer lumber (LVL), made into panels 15 m (50 ft) long, 3 m (10 ft) wide, and more than 152 mm (6 in.) thick. These are cut to size and used to make a series of large arches, 12 m (40 ft) tall to the central peak and spanning 15 m (50 ft) across, made of sections with a triangular cross-section to add structural strength. A series of these arches is assembled to create a large enclosed space without any need for internal structural supports. The pleated design of the roof is designed to accommodate solar panels and windows for natural lighting and passive solar heating.
"The structural depth achieved by building up the triangular section helps us achieve the clear span desired for the communal space, all while lending a visual language on both the interior and the exterior of the structure," said Demi Fang, an MIT architecture graduate student who was part of the design team. "Each arch tapers and widens along its length, because not every point along the arch will be subject to the same magnitude of forces, and this varying cross-section depth expresses structural performance while encouraging materials savings."
The arches would be factory built in sections, and then bolted together onsite to make the complete building. Since the building would be largely prefabricated, the actual onsite construction process would be greatly streamlined, said John Klein, a research scientist in MIT's architecture department.
"The Longhouse is a multifunctional building, designed to accommodate a range of event scenarios from co-working, exercise classes, social mixers, exhibitions, dinner gatherings and lectures," added Klein.
The Longhouse design was developed by a cross-disciplinary team in 4.S13 (Mass Timber Design), a design workshop in MIT's architecture department that explores the future of sustainable buildings.
Endnotes:
[Image]: https://www.constructionspecifier.com/wp-content/uploads/2018/08/MIT-Timber-Longhouse-01_0.jpg
Massachusetts Institute of Technology: http://www.mit.edu/
Maine Mass Timber Conference: https://composites.umaine.edu/key-services/wood-composites/maine-mass-timber-conference/
Wells Conference Center: https://umaine.edu/conferences/wells-conference-center/
Source URL: https://www.constructionspecifier.com/mit-project-explores-design-potential-of-mass-timber/
---