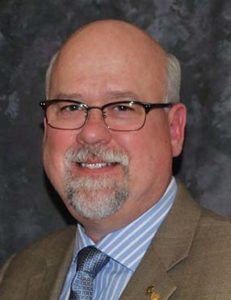 INSIDE CSI
Lane Beougher, FCSI, CCS, CCCA
John F. Kennedy wrote, "Change is the law of life. And those who look only to the past or present are certain to miss the future."
I started my term as CSI President with an article contemplating the future and how to create a better CSI. Today, I am excited to share we are poised to do just that. On March 20, your Board of Directors took steps to modernize CSI and its governance—and give us
the platform for future success—by unanimously recommending needed Bylaws amendments to you, the CSI voting member.
You may be asking, how did the Board develop this proposed Bylaws referendum, what exactly are the changes and what
do they mean for me? Over the last year, we have been listening to your concerns.
We heard meaningful change was needed in order to help you prosper and advance our professions well into the future.
We recognized that change needed to start with us—your Board of Directors. During this self-examination, we examined and discussed trends and business factors. Furthermore, we also reviewed current and expected member demographics and explored best practices in effective association management.
The Board realized that a new, clear, and streamlined approach to both accountability and delegation will enable CSI to be more responsive to you. It will allow us to optimize resources, become more nimble, and focus on strategies to ensure CSI's essential ongoing place in our fast-changing industry. Part of this new approach means presenting you, the member, with amendments to Institute Bylaws.
These changes are a much-needed evolutionary step. They create a framework to be more proactive so CSI will provide an environment conducive to realizing your full professional potential. We, as your Board, will focus on results and benefits for our members.
An effective board must understand its role and pursue it with passion while having concise outcomes in mind. The Board of Directors has a clear understanding of CSI's strengths and its weaknesses, its history, and what we must accomplish in order to be relevant. We are moving forward, building on and improving our technical, certification, and education resources—positioning them, and you, to be sought after on a global scale.
Voting on the proposed Bylaws referendum is now open and will close on May 25. Results will be communicated shortly thereafter. Additional information about the proposed Bylaws may be found at www.csinet.org/bylawsreferendum.
We are at a pivotal moment in CSI's history. We now have the opportunity to create an environment that clearly enables your success. By approving the Board's request to amend our Bylaws, you will help us guide CSI toward the performance-based organization we all know it can be, should be, and must be to serve the interests of our members.
THE BYLAWS
From www.csinet.org/bylawsreferendum:
The Board recognized a need to change CSI's culture of strategy, delegation, and accountability. Cultural change applies to both how the Board operates and how the organization is run. While past CSI Boards have had strategy in mind, the structure emphasized process over outcomes. Therefore, the Board adopted policies to focus on results (combined with evidence of progress):
Members have building information and project delivery knowledge;

The construction industry recognizes CSI as the leading technical resource for the built environment;

CSI's credentials are recognized as "gold standards" of competence (including integrating CSI principles into higher education);

Members engage in a robust community of related professions and organizations; and

Members receive exclusive benefits and discounts on CSI products, programs and services.
The Board is unanimous in recommending these Bylaws changes to you, the members. These proposed changes affect only how the Board does its work, and do not affect chapter or region bylaws in any way.  
Lane Beougher, FCSI, CCS, CCCA, is CSI President for FY2016. An architect with the Ohio Facilities Construction Commission, with more than 30 years of facilities planning, architectural design, specifications preparation, and construction contract administration experience, he served as Ohio's State Architect from 2011 to 2012. Beougher is also the CSI liaison to the American Institute of Architects (AIA) Contract Documents Committee. He can be contacted via e-mail at lane.beougher@ofcc.ohio.gov.