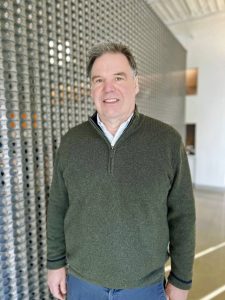 KAI Enterprises, a national design and build firm, has hired Andrew Kerr-Grant, AIA, NCARB, LEED AP BD+C as its newest senior project architect at its St. Louis, Missouri, office.
Kerr-Grant boasts more than 30 years of experience as a senior project architect and project manager. He has served as the lead architect for the design, documentation, and implementation of projects for higher education, K-12 schools, government, research and development, commercial, corporate, and industrial facilities. His projects have ranged from an $87 million Armed Forces Readiness Center to small repair and renovation projects and everything in between.
Kerr-Grant's experience includes programmatic design, preparing construction documentation drawings and specifications, as well as construction administration service projects incorporating Antiterrorism and Force Protection (ATFP) requirements, Leadership in Energy and Environmental Design (LEED) certification, and building information modeling (BIM) technology.
Prior to KAI, Kerr-Grant was a senior architect/project manager for St. Louis-based Etegra, Inc.; a senior project architect for Core States Group; and a senior project architect/project manager/architectural group manager for Benham, A Haskell Company.
Originally from Australia, he earned his bachelor of architecture from the University of Melbourne. He also enrolled in continuing education programs at both St. Louis Community College and Harvard Graduate School of Design. He is a registered architect (RA) in Missouri, Illinois, Minnesota, and the District of Columbia and has professional registrations from the National Council Architect Registration Board (NCARB), U.S. Green Build Council (USGBC) and the Project Management Institute (PMP). Kerr-Grant also serves on the American Institute of Architects (AIA) St. Louis Design awards and events planning committees, and is a member of the St. Louis Revit Users Group.
"Andrew joining KAI has been another amazing boost to our talented KAI design team of architecture and interiors professionals," says Brad Simmons, FAIA, KAI managing partner. "His extensive experience as a knowledgeable and proven senior architect and project manager gives our clients and design teams a steady presence to guide and deliver outstanding projects. Andrew's industry capabilities span a wide range of clients, project types, and geographies. His flexibility and collaborative nature have already been a perfect fit at KAI."