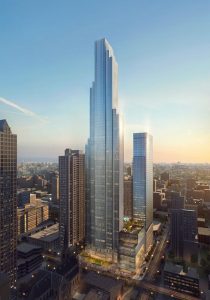 One Chicago, a new, luxury mixed-use, two-tower  complex in Chicago, Illinois, has broken ground. It is designed by Goettsch Partners and Hartshorne Plunkard Architecture (HPA) .
One Chicago will create more than 204,387 m2 (2.2 million sf) of new residences, 5110 m2 (55,000 sf) of office space, and 17,466 m2 (188,000 sf) of retail, along with a restaurant, and a large roof garden on top of a podium building.
The 76-story main tower anchors the new development's southeast corner and will contain 276 apartments and 77 condominiums. Set back approximately 14 m (45 ft) along its eastern side, the tower design creates a new urban park providing a buffer from street activity.
The tower is composed of five vertical, rectilinear bars dropping off at varying heights as the program mix changes. The setbacks allow for multiple large terraces and create a more slender form as the tower rises. Expressive fins varying in width reinforce the verticality of the building, giving the façades a distinct texture. At the tower base, the residential lobby, amenity spaces, and a large terrace open up to the urban park.
The second tower anchors the northwest corner of the development. Similar to the main tower, the building features roof terraces formed by the tower setbacks that provide private outdoor living spaces for residents. The private residential amenities on the 10th floor extend out onto the upper podium roof deck, which provides a large outdoor amenity.
"One Chicago will transform an underutilized site in the heart of River North into a dynamic, multifaceted development," said Jim Plunkard, AIA, founding partner of HPA. "The project has been thoughtfully crafted to integrate millions of square feet of new programming into an authentic, urban experience for building users, neighborhood residents, and the city as a whole."
One Chicago is scheduled for completion in 2022.