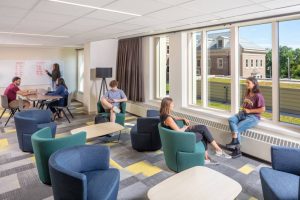 The Active Design Guidelines published by the Department of Design and Construction, Health and Mental Hygiene, Transportation and City Planning of the City of New York, includes multiple strategies that can be used for site planning, as well as the exterior and interior of a building to promote exercise. The opportunities to create an active campus are infinite, but it requires the common vision of all stakeholders.
Buildings can promote student physical activity through spaces that encourage exercise, such as a prominently located main staircase. By creating a wide and welcoming staircase with lots of natural light where students can also hang out, students may use it for at least the first three floors.
Another strategy is locating elevators in a secondary place behind the staircase to encourage students to use the stairs. Special consideration must be taken to not segregate students who are in wheelchairs or visually impaired.
Color and lighting are also very important in setting the "mood" of the building. Lively colors induce movement, together with living walls thriving with vegetation; all are part of the concept of Biophilia – an innate tendency in humans to seek connections with nature and other forms of life. The intent with these initiatives is not necessarily for students to start exercising in the building, but rather to make the users more active in their daily routines by using what behavioral economists call "nudging," or small pushes toward changing behavior.
The mechanical and plumbing systems can be designed to ensure clean fresh air, reduction of pollution and adequate air filtering, not only at the building level but also at the source of the chilled water or steam in cases of power plants and campus loops very common in the context of the university campus.
Including filtered drinking water fountains in strategic locations instead of soda vending machines can help promote an overall healthier environment for students. Traditional water fountains are also being replaced by water bottle refill stations. Additionally, vending machines can sell healthy snacks and beverages.