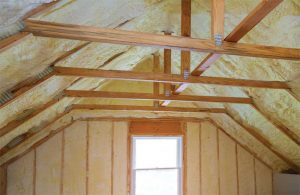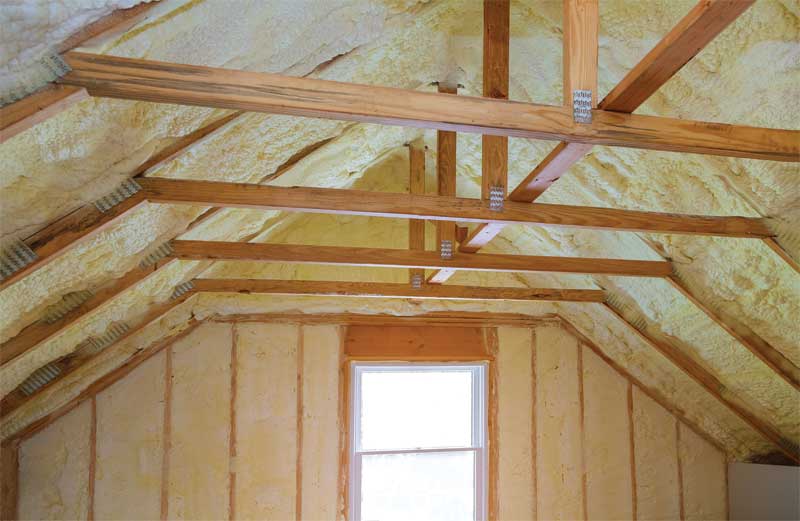 by Anthony J. Nicastro, PE, and Megan A. Toumanios, PE
Low-slope and steep-slope unvented roof systems (i.e. insulation and air barrier are applied directly to the underside of the roof deck) are common in applications where designers are seeking cost-effective and energy-efficient roof assemblies. However, architects of these 'compact' roof assemblies must consider vapor permeance and arrangement of the materials to produce acceptable hygrothermal performance and low risk of condensation in the resulting conditioned 'attic' space. To this end, the 2015 version of the International Building Code (IBC) includes new provisions that relate to unvented enclosed rafter/truss assemblies and unvented attics. These rules, especially in section 1203.3, "Unvented attic and unvented enclosed rafter assemblies," dictate how design professionals specify vapor retarders and placement of insulation in compact roof assemblies for moisture control.
Most requirements for roofing and thermal efficiency in IBC are contained in Chapter 13, "Energy Efficiency," or Chapter 15, "Roof Assemblies and Rooftop Structures." However, Chapter 12, "Interior Environment," addresses, among other topics, ventilation and temperature control. Further, the relationship of unvented attic spaces to maintaining the interior environment through use of insulation is also discussed in Chapter 12, a section seldom associated with roofing materials. Insulation requirements for roofs are, therefore, spread across IBC Chapters 12, 13, and 15.
Applicable roofing assemblies
Designers may view unvented 'attic' (i.e. attic space, enclosed rafter, or joist space above normally occupied and conditioned interior space) assemblies as an economical arrangement of roofing and insulation materials. However, insulation placement in roof assemblies requires careful review to achieve acceptable hygrothermal performance levels and limit the potential for condensation within the system. Recent IBC changes to section 1203.3 recognize successful arrangements of insulation with respect to permeable and impermeable materials, providing design directive to help limit potential failure due to condensation.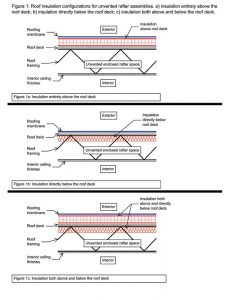 IBC dictates acceptable placement and composition of roofing materials in Chapter 15, but describes required thermal efficiency of the roof in Chapter 13, which references the International Energy Conservation Code (IECC). The minimum required thermal resistance varies depending on insulation placement relative to other materials. Possible locations for insulation within the roof assembly, as addressed by IBC, include:
insulation tight to the roof deck (i.e. insulation entirely above the roof deck, directly below the roof deck, or both above and below the roof deck); and
insulation on the floor of the attic (Figure 1).
It is important to note when insulation is on the floor of the attic, the space between the insulation and the roof deck must be vented to the exterior. This insulation strategy has not changed in recent code iterations and is not discussed in this article.
New rules and practical interpretation
IBC section 1203.3 outlines the only circumstances when a roof may have an unvented attic or enclosed rafter/truss assembly. Although not expressly defined, the authors' interpretations are that this provision applies to both steep-slope and low-slope roof assemblies. Below is a reproduction of the code text and the authors' interpretation along with potential reasoning for each provision.
Section 1203.3 says unvented attics (where ceilings are applied directly to the underside of the roof framing members) are permitted when all of the following conditions are met.
The unvented attic space is completely within the building thermal envelope.
Authors' interpretation: The roof insulation and air barrier must follow the plane of roofing materials rather than diverge (Figure 2). When all of the insulation is tight to the roof deck, the unvented enclosed rafter/truss assembly or unvented attic is within the building envelope and the attic will be conditioned to have a similar temperature as the interior space. Such a provision limits extreme temperatures in the attic space so pipes remain above freezing to reduce wear and tear on HVAC equipment that is commonly housed in attic space.
No interior Class I vapor retarders are installed on the ceiling side (attic floor) of the unvented attic assembly or on the ceiling side of the unvented enclosed roof framing assembly.