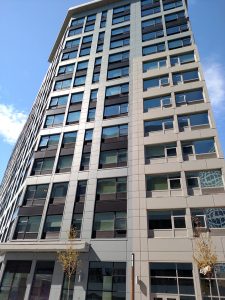 New Jersey's 3 Journal Square, a mixed-use, 240-unit apartment building, hopes to attract young professionals with a high-style aesthetic, modern performance, and Leadership in Energy and Environmental Design (LEED) Silver certification.
Geometric façade design
Designed by Marchetto Higgins Stieve Architects, modular blocks of color define the exterior. The geometric format gives the 13-story, 20,439-m2 (220,000-sf) structure a more approachable scale. This modularity is also evident within the 33 x 23 m (10 x 7 ft) daylight openings composed of several rectangular window units.
In total, 2538 aluminum-framed window units were installed. Contributing to product resiliency, a dual-color, painted finish was applied to all windows. On the windows' exterior, a light gray color was used to match the inset building façade of the same hue. Contrasting with this lighter portion, the surrounding exterior walls mask their size in dark gray and blue tones. Within these sections, a black finish emphasizes the outline of each window unit. On the interior, an ivory color was selected for its ability to blend with most décor.
Durable finishes, sustainable goals
The light gray, black, and ivory finishes were blended in-house and formulated using 70 percent polyvinylidene fluoride (PVDF) resin-based coatings. These high-performance painted coatings were applied in a controlled facility that safely captures and destroys the volatile organic compounds (VOCs) present in liquid solvent-based paints before the finished products' arrival on the building site. These finishes meet American Architectural Manufacturers Association (AAMA) 2605, Voluntary Specification, Performance Requirements, and Test Procedures for Superior-performing Organic Coatings on Aluminum Extrusions and Panels, as well as minimize buildings' maintenance costs, and maximize long lifecycles.
Further contributing to the project's sustainability goals, the aluminum used to produce the windows is an 82.5 percent recycled-content aluminum billet composition. After its useful life on the building, the aluminum framing members are 100 percent recyclable.
In addition to reducing waste, enhance visual appeal and improving durability, thermal improvement services also support LEED Silver criteria. Insulating, thermal, polyamide strut was added to the windows' aluminum framing members. The strut separates the inside and outside metal, which enhances a window's thermal performance. This thermal break reduces the amount of heat transfer, therefore saving energy and increasing occupant comfort.