New York pavilion embeds Wyoming landscape in center of urban Manhattan
by brittney_cutler | May 2, 2022 5:59 pm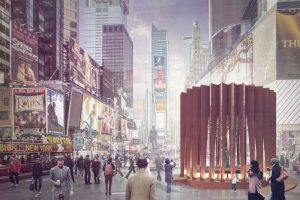 A new pavilion in the heart of New York City draws visitors into an engagement of its flowing folds of weathered steel and timber, creating an urban "pause" in the busy concrete jungle of the Big Apple.
Located between West 46th and 47th streets at Times Square, FILTER appears to be a foreign object, designed by CLB Architects for Design Pavilion and the NYCxDesign Festival. Fluid shards of naturally weathered steel invite close inspection, and a ramp leads around the perimeter, offering views of the space held within. The noise, bustling crowds, and glaring lights of New York City are filtered out, and the newly-centered visitor is left in solitude, inhabiting the urban "pause."
Each element of the structure was designed with attention to its sustainability, portability, and longevity, beyond the duration of the NYCxDesign installation. EMIT, based in Sheridan, Wyoming, is responsible for the steel prefabrication and is the exhibit patron. The steel was weathered to develop a protective rust patina evocative of the Rocky Mountain West. The lightly-charred and textured timber elements were crafted from salvaged glulam beams by Spearhead, sustainable wood technologists based in British Columbia, Canada. An organic Exclamation Planetree, donated by Raemelton Farm in Adamstown, Maryland, completes the design.
Following the closure of the NYCxDesign Festival, the tree will be donated to New York City nonprofit Battery Conservancy, and the pavilion will be carefully disassembled and transported back to Wyoming to continue its life as a public sculpture at EMIT's headquarters. When it completes its cycle and reaches its final resting point in Sheridan, FILTER's patina will reflect the accumulations of both dry western air and East Coast salinity.
Free to the public, FILTER will be open daily from May 7 to 15.
Endnotes:
[Image]: https://www.constructionspecifier.com/wp-content/uploads/2022/05/BC_FILTER.jpg
Source URL: https://www.constructionspecifier.com/new-york-pavilion-embeds-wyoming-landscape-in-center-of-urban-manhattan/
---