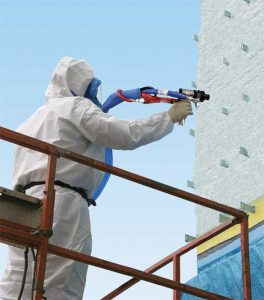 U.S. support for the Montreal Protocol stalled however under the Trump administration, which removed the United States from the Paris Climate Agreement, blocking HFC phasedown efforts. Subsequently, when Biden took the helm in January 2021, one of his first actions as President was to return the country to the Paris Agreement, officially signaling the country's return to focus on the curbing of greenhouse gases as well as policies aimed at reversing climate change.
In addition to direct impacts on the environment, all this federal and international history directly impacts the commercial building, insulation, and roofing sectors, as all use various closed cell sprayfoam solutions. Most notably however, and irrespective of U.S. sentiment or policy at the federal level at any given time, top industry leaders have been working to move the construction industry toward adopting next generation sprayfoam systems incorporating HFO-based blowing agents known to reduce global warming inducing greenhouse gases. Individual states have also started taking phasedown initiatives into their own hands.
State-by-state phasedown efforts
Established under the Clean Air Act (CAA), the Environmental Protection Agency's (EPA's) Significant New Alternatives Policy (SNAP) program identifies and evaluates substitutes for ozone-depleting substances by end-use. SNAP Rules 20 and 21 list specific HFCs as unacceptable and call for the shift to environmentally friendly refrigerants and blowing agents. However, SNAP rules were vacated at the federal level in 2017, after the Mexichem Fluor Inc. v. EPA lawsuit claimed the EPA had exceeded its statutory authority. In 2020, SNAP rules were partially reinstated and currently prohibit certain substitutes when switching from ozone-depleting substances. However, in response to the partially vacated rules in 2017, member states of the U.S. Climate Alliance, a coalition of states committed to upholding the Paris Climate Agreement's goal of keeping temperature increases below 1.5 C (34.7 F), began to adopt SNAP Rules 20 and 21 at the state level and this effort continues today.
Participating states are in various degrees of HFC phasedown. In addition to enacting legislation prohibiting certain HFCs, U.S. Climate Alliance member states California and Washington have gone beyond, and enacted stricter regulations aimed at curbing HFC emissions beyond EPA SNAP Rules 20 and 21. Additionally, Colorado, New York, Maine, Vermont, New Jersey, Delaware, Rhode Island, Maryland, and Massachusetts are all U.S. Climate Alliance members who have enacted legislation prohibiting certain HFCs in alignment with the federal SNAP 20 and 21 rules. Pennsylvania, Connecticut, Oregon, New Mexico, and Hawaii are members which have expressed intentions to introduce legislation to reduce HFC emissions, but no bills have yet been signed into law in these states. Finally, Nevada, Minnesota, Wisconsin, Michigan, Illinois, Louisiana, and North Carolina are member states but have not yet committed to regulating HFCs. The remaining states are not U.S. Climate Alliance members.
Regardless of which states participate and which do not, the sprayfoam industry continues to introduce HFO-based, closed cell sprayfoam systems to provide more environmentally sound solutions for optimizing the performance of both the building envelope and roof.
Closed cell sprayfoam insulation
Closed cell spray polyurethane foam acts as a single-source solution for thermal, air, water, and vapor control, providing architects and builders with the ability to seal the building enclosure via one product and eliminating the need to specify numerous additional products. The material is durable, versatile, lightweight, and is a rigid foam option.
Closed cell sprayfoam adheres to nearly every construction substrate, expanding and forming in place, virtually eliminating cracks and gaps that leak air and water in above grade walls. It keeps its shape without settling, creating an airtight structure providing consistent performance over its lifetime.