by Monica Schultes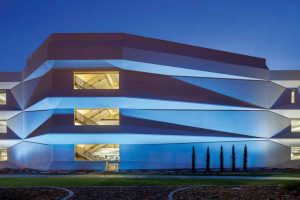 It is common knowledge buildings have traditionally been energy hogs. Globally, buildings and construction are responsible for 60 percent of electricity use, 12 percent of water consumption, and 40 percent of material resource use. The U.S. Department of Energy (DOE) believes next-generation building envelopes have considerable potential to reduce energy consumption in buildings. However, to make any serious progress toward that goal, technologies must be market-ready with minimal cost impact to facilitate widespread adoption.
One of the challenges in achieving this goal is quality control can be difficult to enforce on a construction site without additional inspection costs, which can compromise the energy efficiency and durability of the building envelope. Other challenges are controlling expenses and impact of weather on site construction. Prefabrication enables better quality control for an enhanced building envelope as it is easier to control environmental conditions in a factory setup than onsite.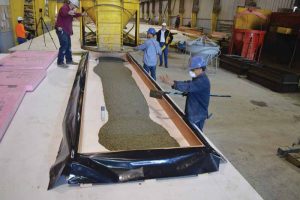 The Oak Ridge National Laboratory (ORNL) in Tennessee, DOE, a materials science company, the University of Tennessee (UT), the Institute for Advanced Composites Manufacturing Innovation (IACMI), and the Precast/Prestressed Concrete Institute (PCI) are collaborating on a research project to advance the building envelope using precast concrete insulated wall panels. ORNL commissioned this project through the DEO U.S.-China Clean Energy Research Center.
Rethinking the building envelope
Research is underway at ORNL and UT to advance precast concrete insulated wall panel technology by developing materials and design to double its thermal performance and reduce weight by half without increasing costs. The main goal of this collaborative project is to promote passive envelope technologies for improving energy efficiency in new construction.
The new and improved precast concrete insulated wall panel would be 50 percent lighter with a 200 percent increase in thermal performance, all in a cost-neutral design. To achieve this, the research team developed a multiprong approach encompassing several technologies.
The first advancement is a lighter-weight solution. To reduce the weight of typical precast concrete panel by half, the prototype wythes are a mere 38 mm (1½ in.) thick with a lower concrete density of 1602 kg/m3 (100 lb/cf).