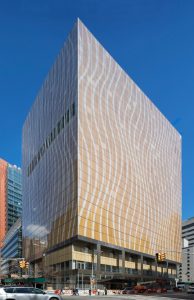 The NewYork-Presbyterian David H. Koch Center, an ambulatory care center in New York City, combines innovative clinical approaches and cutting-edge technology to provide exceptional care and a seamless patient experience that is designed to reduce stress and anxiety.
The design of the leading-edge facility is a collaboration among HOK as architect, Ballinger as medical architect, and Pei Cobb Freed & Partners as consulting architect for building envelope and lobby.
Creating a presence on Manhattan's Upper East Side, the building represents a new urban context for NewYork-Presbyterian. With its wood screen and glazed façade, the center offers a warm, inviting, and transparent face to the community. The first-of-its-kind at this scale, the insertion of a wood screen into the triple-glazed assembly along with the undulating pattern give the curtain wall its distinctive and rich architectural character.
A wood ceiling in the lobby creates a calming environment enhanced by daylight and artwork. The wood, stone, and natural materials throughout the interior spaces of the facility evoke comfort and ease. A prominent reception desk and clear wayfinding facilitate a streamlined and intuitive journey for all guests to minimize stress.
The dramatic stair encourages healthy movement and leads to quiet zones, lounges, and dining options on the second floor. Clinical floors continue the timeless aesthetic with a soothing, quiet palette of materials including wood and stone.
Circulation is clear, with a separation of 'on-stage' and 'off-stage' flows so patients and families can travel along the light-filled perimeter corridors with clear wayfinding, and staff can move efficiently throughout the building, minimizing disruption to guests.
Infusion and radiation oncology areas, typically found in basement areas, are co-located on the fourth floor of the building. This allows patients and staff access to natural light. The infusion area features a variety of treatment environments ranging from private rooms to warm and inviting community spaces.
Each floor is designed with standardized procedure rooms and patient areas, allowing for the flexible use of rooms and the ability to adapt to changing technology over time. Critical building systems and infrastructure that are essential to maintaining building operations during an emergency are located above grade to protect and isolate them from hazards.
Designed for a minimum of Leadership in Energy and Environmental Design (LEED) Silver certification, the center features a green roof, high-performance building skin, and high-efficiency mechanical systems.