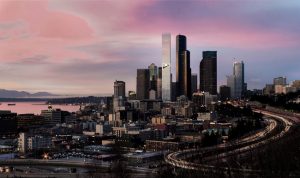 ODA New York's new 361-m (1185-ft) Seattle Tower design reflects its founding principal Eran Chen's belief that every city dweller should have access to outdoor space in their homes.
Located in the city's downtown, the tower has retail, parking, and co-working spaces on the lower floors, and 1080 residential units.
A void in the middle of the tower contains amenities that offer views to Mt. Rainier. The project's ambition is to create unique suspended gardens that echo the topography of the surroundings. The void in the middle of the tower serves residents in two ways—placing a shared amenity space outdoors, while offering views of Seattle's natural beauty.
ODA's design intention with the tower is to use architecture to bridge communities and create spaces for connection. In most current tower iterations you cannot even open a window, but ODA is conceiving ways to open a door onto a garden in the sky, the firm said. "These elevated amenities offer views of the sea or mountains in the distance, new places to connect with neighbors in spaces big enough to sit outside and feel the wind blow through your hair."
"There must be a better way to arrange our homes in our increasingly dense cities where we can enjoy our privacy while acknowledging our neighbors, where we can all access outdoor spaces and feel the sunshine on our face,"  said Eran Chen, founding principal, ODA New York.