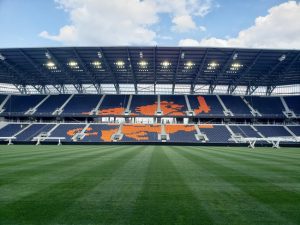 Designed by Populous, the TQL Stadium in Cincinnati, Ohio, brings distinctive design elements and inclusive viewing experiences just in time for the 2021 Major League Soccer (MLS) season. Known as "the Crown Jewel of Cincinnati," this soccer-specific architectural wonder boasts nearly 20,000 linear feet of custom engineered architectural railing systems.
"In addition to equipping the stadium with seven different railing styles, our team custom engineered fencing, gates, and other architectural elements to further enhance fan safety and promote socialization without disrupting visibility of the action on the field," said Laura Rygielski Preston, the manufacturing company president.
The architectural railings can be found inside and outside the stadium, from the seating bowl, suites, and exterior balcony to the concourse and surrounding gates. Cable, picket guardrail, and drink rail provide secure access and convenience for the venue's 26,000 spectators. Clear tempered, laminated glass railing with ionoplast interlayer offers unobstructed views and an added touch to the stadium's flair. Further enhancing the facility, custom perforated guardrails turn the entry to the West Interior Club into a dramatic design element.
A distinguishing aspect of this project was high-definition surveying (HDS) for its glass railing systems. 3D laser scanning was used for precision modeling of the distinctive railing shapes and contours featured throughout the state-of-the-art venue. This form of field analysis offers benefits including faster turnaround, improved safety, reduced rework, and higher quality data capture.
"The scanning tool produces high-accuracy mappings of the area we are working on with complex designs and geometries. These data points are then turned into a 'point cloud' file and provide extremely accurate dimensions quickly, safely, and efficiently," said Rygielski Preston.
TQL Stadium broke ground in December 2018 and opened this year in May. The 48,124-m2 (518,000-sf) venue in the West End neighborhood features premium viewing experiences based on fan preference.