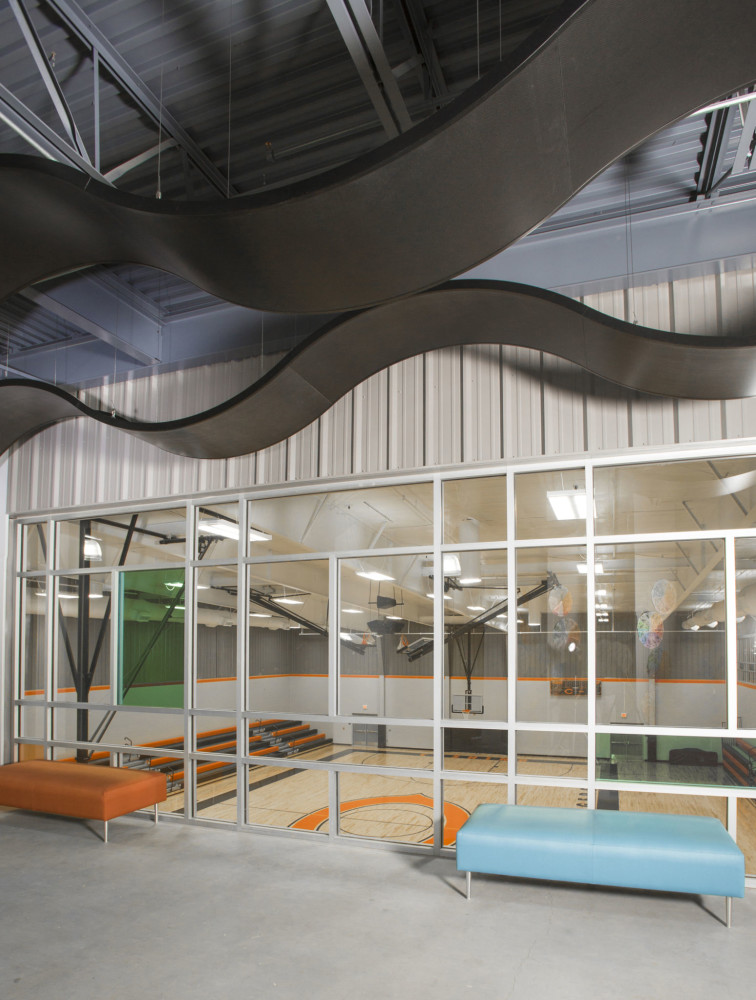 Acoustically isolated band and choir rooms and a modern media center are just two of the new upgrades students at Oklahoma's Cushing Middle School can enjoy, now that they are in a brand-new building.
Currently serving 600 students, but able to accommodate 200 more, the 13,006-m2 (140,000-sf) facility also houses 40 classrooms, practice and competition gyms, interior and exterior courtyards, an indoor and outdoor art instruction area, a storm shelter, and a state-of the-art keyless security system.
In order to achieve performance and aesthetic requirements, the design team turned to proprietary ceiling suspension systems, an open-plenum metal ceiling assembly, curved and straight specialty metal ceiling panels, and perimeter trim.
The goal was to "create interest, while keeping the majority of the spaces open to structure," said Dayna Boynton, principal of Boynton Williams & Associates (BWA) Architects.
One way this was achieved was through installation of  nine clouds using one-directional 0.6 x 1.8-m (2 x 6-ft) curved aluminum ceiling panels. To help promote quiet, comfortable learning spaces, the panels feature a perforated dot pattern and a proprietary acoustic backer for a noise reduction coefficient (NRC) of 0.70. The design called for 129 m2 (1392 sf) of curved panels that were inserted into a factory-curved suspension system and finished in the school's colors of black and satin silver, as well as a custom orange.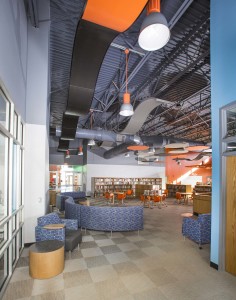 "[The clouds] created the interest we were looking for in a soft form… and kept the look of the ceilings linear, as well keeping in line with the form of the spaces and corridors," Boynton said.
All the ceiling systems installed in the Cushing middle school also furthered the project's sustainable design goals. The metal ceiling panels, suspension systems, and trim contain recycled content, and can be fully recycled. The metal also contains no organic compounds to support mold and microbial growth, contributing to a healthy and durable learning environment.
"Durability was important for this type of application, as well as the light reflectance," Boynton said, referring to the fact poor lighting can result in eye strain, fatigue, and headaches, which can lead to decreased concentration. The proprietary panels used in the design can reflect between 83 to 86 percent of available light. In addition, they have a homogenous surface without any visible holes or perforations, and their high diffusivity limits hot spots and glare to help increase comfort.