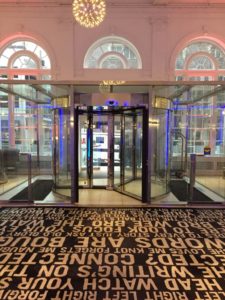 A historic Philadelphia hotel has returned to its roots with the addition of an automatic revolving door. The Warwick Hotel Rittenhouse Square has been through a number of entrance configurations over the building's lifetime, but it began with a small-gauge, manual revolving door flush with the façade. When this was replaced with a double set of sliding doors, difficulties arose with negative pressure, which caused user discomfort by allowing cold air to enter and conditioned air to exit.
"Our HVAC system was designed for a revolving door entrance," said Ray Hewitt, the hotel's director of engineering. "We wanted to put a revolving door back in to address the negative pressure we were experiencing in the lobby."
Three years ago, the hotel accomplished exactly that, installing a stainless steel-finished automatic revolving door with three door wings. However, this was no straightforward installation—the historic status of the building meant the façade could not be altered to accommodate the new entrance. With this in mind, the team chose to place the revolving door within the lobby itself, past the two sets of sliding doors.
Between these two types of doors and the illuminated glass cube used to encase them, airflow between the interior and exterior of the hotel has been nearly eliminated. Further, the doors have required virtually no maintenance.
"With the old entrance, our HVAC was running constantly. It could not keep up," said Hewitt. "Now the unit can shut down periodically; that's good for the health of the system, and we're seeing substantial savings on energy bills."
The new door is designed for high-capacity projects—a good thing, given the fact the Warwick has 301 guest rooms and 106 permanent residents, with up to 1000 people passing through the lobby on a given day. This number is only increasing with the increased standards of comfort in the area.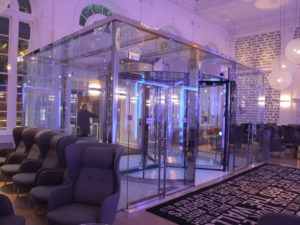 Providing pedestrians with another option, swing doors have also been installed on either side of the entrance. In an emergency, the sliding and revolving doors will stop, and the wings can be folded to provide a wider opening.