Applications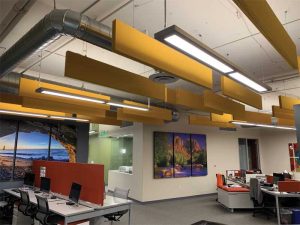 Typical applications for acoustical wall panels include classrooms, lecture halls, auditoriums, and other public speaking venues. Spaces requiring acoustical characteristics to allow the audiences both in the back and front of the rooms to hear the speakers or performers would be suited for this acoustical treatment. Houses of worship would be a prime example as they are becoming more and more like performance spaces and are much larger in scale now than in previous, traditional design. Sophisticated audio/visual systems are being installed in these spaces and require well-designed walls and ceilings so as to support the performance of this equipment. Sports venues also require acoustical control due to the speakers and public address systems being utilized in these spaces. The hospitality sector is a growing market for acoustics. Public spaces such as hotel lobbies, restaurants, and bars are now being noticed for their listening environment. With the advent of social media and also review forums, a common evaluation of a restaurant might include ratings of the food, service, and more recently, acoustics. People are speaking up when their overall experience is dampened by poor acoustics. While wall panels are more typically installed, 'clouds' are becoming popular. Modern designs are starting to take into account the fifth wall, or ceiling. Absorptive panels can be suspended from the ceiling to create clouds. Latest trends include the use of linear ceiling blades and sculpted wall panels to create dynamic aesthetics along with acoustic performance. These can also incorporate lighting and other disciplines into them to make them more than just acoustical panels.
Traditionally adopted solutions to acoustical challenges have been to add panels, baffles, or banners to the space in an attempt to add absorption, thereby cutting down on echo and reverberation issues. Fabric-wrapped acoustical panels can be designed to add color to the space. It can also become a design element when fabric coverings contrast or match existing wall and ceiling surfaces. Installing materials like this early in the new construction phase is generally less expensive since personnel is already onsite, using the equipment necessary to install the acoustical treatments.
Installation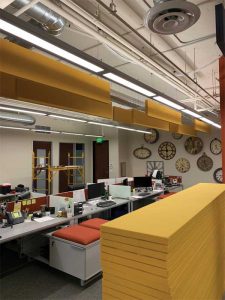 Installing a standard acoustical wall panel is a simple affair. Hardware that is available for a typical wall installation ranges from the most simple finish nails and construction adhesive to impaling clips, Z-clips, and acoustic panel anchors specifically designed to install fabric-wrapped fiberglass panels.
The panels must be installed level and square. Even the finest acoustical panel will evoke disappointment if the installation is poorly executed. While simple levels will allow for a good installation, laser ones are recommended.
Most of the time, small panels only require adhesive. Modern construction adhesives are designed to have a high 'grab' strength. They will hold in place as the adhesive sets up, making hardware unnecessary. Some panels can have high impact or tackable surfaces to serve dual purposes or perform in areas where potential damage can occur.
While paling clips, z-clips, and acoustic panel anchors are acceptable for fabric or painted panels on walls and ceilings, in cloud applications, T-grids are installed on the back of larger panels to provide structural integrity and hanging points. Ceiling wire, threaded rod, or aircraft cable can be used to attach to the ceiling deck. Again, flat and level are the two most important characteristics of the installation for sound absorption and aesthetics.
Best practices when specifying
The installation conditions and substrate will make a difference to the overall look of the material. The most important aspect of a successful installation is, of course, a square and level mounting surface. It is important the vertical edges of the panels are plumb and horizontal edges are level. This can best be achieved by installing taped and finished drywall over the steel studs of the wall. Panels should never be installed directly on to studs, as these are not structural materials.
Lighting can also impact the look of a panel. Down- or wash-lighting can highlight imperfections on the panel's surface. While the surface of a fiberglass veil panel will be smooth and flat, it will not have the perfection of a level-five drywall finish. Slight imperfections would normally be invisible to the naked eye, but they can show up when lit from a specific angle.
Finally, the space where the panels will be installed must be kept within the manufacturer's recommended range of both temperature and humidity. The high humidity levels can cause staining on the face of the panel and when combined with higher temperatures, it can result in delamination of the facing material from the core material. Typical temperature and humidity levels should range from 35 to 55 percent relative humidity (RH) and 18 to 24 C (65 to 75 F). The panels should be acclimated within the space in which they will be installed for at least 48 hours prior to installation.