Paintable acoustic panels allow design flexibility
January 15, 2020
by David Ingersoll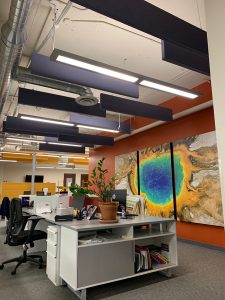 For many years, fabric-wrapped fiberglass panels have been a common solution for interior acoustic treatment. The composition of these panels includes a heavy density fiberglass board wrapped in a decorative, acoustically breathable fabric. The selected fabric can either compliment the design of a space, or can be matched to blend in and go unnoticed.
While woven polyester fabrics are most common, other facing material options include lightweight polyvinyl chloride (PVC) films, polyolefin, and polypropylene. Natural fibers, such as wool, silk, and cotton, are not typically used, as they are hydrographic and expand and contract due to water absorption. The fiberglass veil material used for paintable acoustic panels is designed to achieve a Class-A fire rating, as well as provide a porous, permeable facing suitable for coating.
Paintable panels offer designers the flexibility to blend in or stand out when adding acoustic treatment to a space. These panels can be used on walls or ceilings, and offer an alternative to the traditional fabric-wrapped types. Any RAL (Reichs-Ausschuß für Lieferbedingungen und Gütesicherung) hue can be selected and matched, thus allowing for a broad range of color choices for the boldest or the most modest design approach.
The uncoated facing provides a smooth, clean white surface when the color is desired. Painting of the facing material is typically done in the factory. Field painting is also acceptable, when the proper material is used and directions are correctly followed.
Technical attributes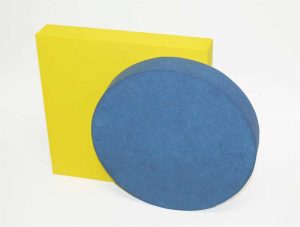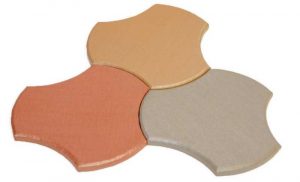 [3]Noise reduction coefficient (NRC) is the measure of how much sound energy is absorbed, as opposed to reflected, by a particular object or piece of material. It is measured by testing per ASTM C423, Standard Test Method for Sound Absorption and Sound Absorption Coefficients by the Reverberation Room Method. An analogy would be windows. A closed window would reflect 100 percent of the sound energy hitting it. This would represent an NRC of 0.00, or no energy being absorbed. An open window would absorb 100 percent of the energy, and this would represent an NRC of 1. While not technically accurate, this analogy gives an understanding of the measure of absorption.
Measuring reverberation time (RT) in a space is done by testing for RT60. This represents the time it takes a sound to decay by 60 dB. The more absorption in a space, the less time it takes for the sound to decay, or lower by 60 dB. A space with very little absorption will have a high RT60 time. A typical range for a reflective space can be anywhere from four to eight seconds. By measuring the RT60, building professionals can determine just how much sound absorption a space requires to be acoustically correct. Typical design times for RT60 range from half to two-and-a-half seconds. Facilities designed for music, such as smaller arenas, theaters, and houses of worship, are designed to be slightly reflective or lively, and are often between a RT60 time of one-and-a-half to two-and-a-half seconds. Larger spaces, such as gymnasiums, auditoriums, and sports halls, are usually designed to stay within RT60 times of one-and-a-half to two seconds. Smaller spaces where the acoustic goal is speech intelligibility (e.g. conference rooms and restaurants) will often have a RT60 goal of one to one-and-a-half seconds. Learning environments such as classrooms, libraries, and other educational spaces are usually designed to be well under a second for RT60 times.
Fabric-wrapped acoustical panels are offered in multiple thicknesses. Standard thicknesses are usually 13, 25, 38, and 50 mm (½, 1, 1 ½, and 2 in.) and custom sizes are up to 100 mm (4 in.). The thickness of the panel has a direct effect on the performance. Generally, a thicker panel will have a higher NRC value. It will also perform better at lower-end frequencies. In most cases, the highest overall NRC is desired, although in some specialty circumstances, tuned absorbers are preferred.
Flammability rating is an important aspect of materials hung on the walls and ceilings of public spaces. Wall and ceiling materials are tested for flammability rating per ASTM E84, Standard Test Method for Surface Burning Characteristics of Building Materials. This is also known as the Steiner Tunnel Test. It tests for flame spread and smoke development. It is represented by two numbers. A Class-A material will have a flame spread number under 25, and a smoke developed number under 450.
Applications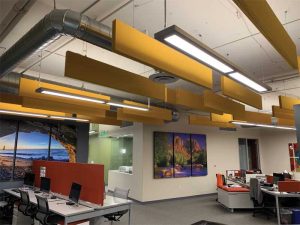 Typical applications for acoustical wall panels include classrooms, lecture halls, auditoriums, and other public speaking venues. Spaces requiring acoustical characteristics to allow the audiences both in the back and front of the rooms to hear the speakers or performers would be suited for this acoustical treatment. Houses of worship would be a prime example as they are becoming more and more like performance spaces and are much larger in scale now than in previous, traditional design. Sophisticated audio/visual systems are being installed in these spaces and require well-designed walls and ceilings so as to support the performance of this equipment. Sports venues also require acoustical control due to the speakers and public address systems being utilized in these spaces. The hospitality sector is a growing market for acoustics. Public spaces such as hotel lobbies, restaurants, and bars are now being noticed for their listening environment. With the advent of social media and also review forums, a common evaluation of a restaurant might include ratings of the food, service, and more recently, acoustics. People are speaking up when their overall experience is dampened by poor acoustics. While wall panels are more typically installed, 'clouds' are becoming popular. Modern designs are starting to take into account the fifth wall, or ceiling. Absorptive panels can be suspended from the ceiling to create clouds. Latest trends include the use of linear ceiling blades and sculpted wall panels to create dynamic aesthetics along with acoustic performance. These can also incorporate lighting and other disciplines into them to make them more than just acoustical panels.
Traditionally adopted solutions to acoustical challenges have been to add panels, baffles, or banners to the space in an attempt to add absorption, thereby cutting down on echo and reverberation issues. Fabric-wrapped acoustical panels can be designed to add color to the space. It can also become a design element when fabric coverings contrast or match existing wall and ceiling surfaces. Installing materials like this early in the new construction phase is generally less expensive since personnel is already onsite, using the equipment necessary to install the acoustical treatments.
Installation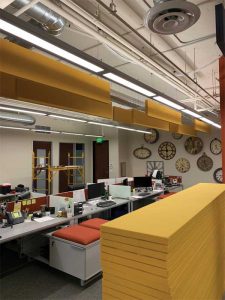 Installing a standard acoustical wall panel is a simple affair. Hardware that is available for a typical wall installation ranges from the most simple finish nails and construction adhesive to impaling clips, Z-clips, and acoustic panel anchors specifically designed to install fabric-wrapped fiberglass panels.
The panels must be installed level and square. Even the finest acoustical panel will evoke disappointment if the installation is poorly executed. While simple levels will allow for a good installation, laser ones are recommended.
Most of the time, small panels only require adhesive. Modern construction adhesives are designed to have a high 'grab' strength. They will hold in place as the adhesive sets up, making hardware unnecessary. Some panels can have high impact or tackable surfaces to serve dual purposes or perform in areas where potential damage can occur.
While paling clips, z-clips, and acoustic panel anchors are acceptable for fabric or painted panels on walls and ceilings, in cloud applications, T-grids are installed on the back of larger panels to provide structural integrity and hanging points. Ceiling wire, threaded rod, or aircraft cable can be used to attach to the ceiling deck. Again, flat and level are the two most important characteristics of the installation for sound absorption and aesthetics.
Best practices when specifying
The installation conditions and substrate will make a difference to the overall look of the material. The most important aspect of a successful installation is, of course, a square and level mounting surface. It is important the vertical edges of the panels are plumb and horizontal edges are level. This can best be achieved by installing taped and finished drywall over the steel studs of the wall. Panels should never be installed directly on to studs, as these are not structural materials.
Lighting can also impact the look of a panel. Down- or wash-lighting can highlight imperfections on the panel's surface. While the surface of a fiberglass veil panel will be smooth and flat, it will not have the perfection of a level-five drywall finish. Slight imperfections would normally be invisible to the naked eye, but they can show up when lit from a specific angle.
Finally, the space where the panels will be installed must be kept within the manufacturer's recommended range of both temperature and humidity. The high humidity levels can cause staining on the face of the panel and when combined with higher temperatures, it can result in delamination of the facing material from the core material. Typical temperature and humidity levels should range from 35 to 55 percent relative humidity (RH) and 18 to 24 C (65 to 75 F). The panels should be acclimated within the space in which they will be installed for at least 48 hours prior to installation.
Adaptability

Paintable acoustic panels can be manufactured in any size up to 1524 x 3048 mm (60 x 120 in.). While they are typically flat, they can also be curved or molded. As they are CNC-cut, any shape or arrangement is possible. Panels shaped like animals, trees, hills, or valleys, are possible. This capability allows the designer to utilize all three dimensions to create a unique space. When the treatment approach is meant to be discreet, flat panels utilizing colors matching the surroundings allow for stealthy or visibly unassuming acoustics. These panels blend in and become part of the space, enabling the domination of other design elements.
Paint and acoustics
The acoustical properties of the paintable panels have proven to be exceptional. This is unsurprising when considering a natural or unpainted material. However, the generally accepted principle has been that paint would lower the overall absorption coefficient because it is a film and would not be acoustically transparent. Based on independent testing done at Intertek's York, Pennsylvania, test facility, it has been determined paint does not affect the panel's acoustical performance. Figure 1 (page 11) is an example of a 25-mm (1-in.) thick paintable ceiling tile. The upper set of test numbers are the unpainted ceiling panel in a Type E-400 mount. This simulates a typical suspended ceiling arrangement. Directly below it are the results for the same ceiling panel painted with the paintable finish. The tests yield almost identical results. Needless to say, it is important to follow painting directions carefully to ensure the appropriate amount of paint is put on the panels.
The same results can be had when field painting. As previously stated, following painting directions carefully is critical. Special acoustical paint is also recommended, and the paint should be applied with a sprayer, not a roller, for an even application. As with any painting project, two light coats always work better than one heavy coat. If there is multiple gallons of paint being used on a project, mixing them in a larger container will help avoid shade differences between batches. Following these instructions will ensure one has a panel with not only exceptional acoustical properties, but also a beautiful addition to the space.
Conclusion
Acoustical materials are continuously evolving. New offerings with different finishes seem to be entering the market on a regular basis. Fabrics, wood, natural fiber, sustainable materials, stone, and even glass are being marketed as acoustical materials. The paintable panel puts a new twist on an old material. The ability to customize the look of the panel is a trait that has been desired and unavailable until now. There is no longer a need to be limited by the fabric offerings of mills. Colors are essentially unlimited and only the designer's imagination sets the boundaries.
Whether the goal is to achieve a purposeful design element or simply lay in stealthy acoustics that blend in, paintable panels can accomplish the goal.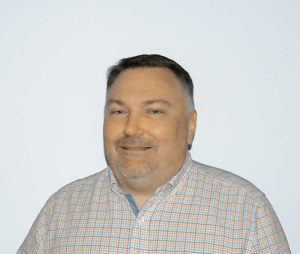 [7]David Ingersoll has 20 years of experience in the soundproofing and noise control industry. In his role as national sales manager, Ingersoll frequently advises architects, designers, acoustical consultants, and engineers on how to use Sound Seal's extensive line of products to solve acoustical problems. He can be reached at dingersoll@soundseal.com[8].
Endnotes:
[Image]: https://www.constructionspecifier.com/wp-content/uploads/2020/01/BTS-Camelback-Commons-R-100-Baffle_4.jpeg
[Image]: https://www.constructionspecifier.com/wp-content/uploads/2020/01/chroma-shapes-1.jpg
[Image]: https://www.constructionspecifier.com/wp-content/uploads/2020/01/custom-shapes-2.jpg
[Image]: https://www.constructionspecifier.com/wp-content/uploads/2020/01/chroma-hs-2.jpg
[Image]: https://www.constructionspecifier.com/wp-content/uploads/2020/01/BTS-Camelback-Commons-R-100-Baffle_1.jpg
[Image]: https://www.constructionspecifier.com/wp-content/uploads/2020/01/Fig-1-fabrics.jpg
[Image]: https://www.constructionspecifier.com/wp-content/uploads/2020/01/Dave-I-Headshot.jpg
dingersoll@soundseal.com: mailto:dingersoll@soundseal.com
Source URL: https://www.constructionspecifier.com/paintable-acoustic-panels-allow-design-flexibility/
---