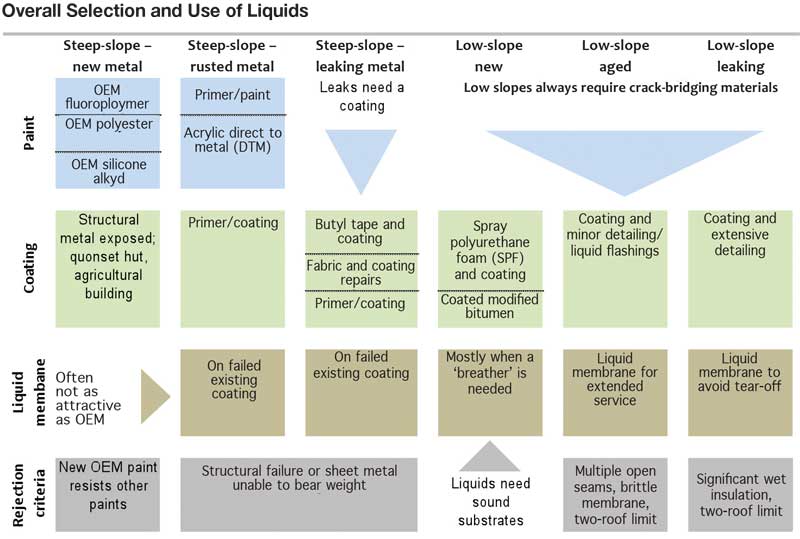 Repairs, retrofits, and liquid-applied roofing
How are roof coatings and reinforced liquid-applied membranes best used when an existing roof is not in a leak-free condition? A good definition of a roof coating is a treatment used to extend the life of an existing roof cover, and a reinforced liquid-applied membrane is an additional roof cover.
From a code and enforcement perspective, this places a coating in the category of a component or accessory, which may not trigger the need for a permit, inspection, or code-approved product. Confirmation of a fire rating per UL 790/ASTM E108, Standard Test Methods for Fire Tests of Roof Coverings, is generally the most that is required by a building official. However, a liquid-applied membrane is often viewed as a separate 'roof.' Therefore, it may trip the two-roof limit and many other code-based requirements, such as:
increased insulation to meet energy codes;
material standards such as ASTM D6083;
assembly-specific UL 790/ASTM E108 fire ratings;
standardized adhesion tests;
wind ratings; and
inspections for moisture and structural integrity prior to permitting.
The reality is the majority of liquid-applied projects lie somewhere between the two categories. For the most part, they are primarily coating applications, since installation is almost always over an existing roof cover. However, in more cases than not, they also involve some level of repair to the underlying roof cover, which gives them elements of a re-cover.
As most roofing professionals have experienced, few owners consider roof maintenance until they have some sort of problem—usually, a serious leak. As a result, even most liquid-applied membrane installations are actually premium-quality coating applications, since the objective is to extend the service life of the existing roof, and the new membrane system is seen as longer-term insurance against future leaks.
Repair and retrofit guidelines
With roof coatings and reinforced liquid-applied membranes, code enforcement becomes entirely discretionary on the part of the local code official, as the perspective of the code is mostly geared toward new construction and not maintenance. This issue is not unique to coatings—the entire push for sustainability implies the reuse, repurpose, and recycling of many roof materials that in the past were replaced at regular intervals. The use of liquid-applied roofing is growing, and sustainability is a big driver in the specification
of coatings.
Here are some guidelines for repair and retrofit:
A typical roof coating project should involve a repair area of less than 10 percent of the entire roof.
A pre-project coating assessment can often be made visually, or with a basic moisture survey using simple conductance and impedance instruments.
A typical liquid-applied membrane project should involve a repair/retrofit area of less than 20 to 30 percent of the entire roof.
A pre-project retrofit assessment is best based
on cores, infrared thermal imaging, or other professional moisture scans.
Most liquid-applied membranes are capable of functioning independently as roof covers, so retrofitting that might involve the removal and replacement of wet insulation and cover boards is practical. For sprayed polyurethane foam (SPF), a good example of recent trends in roof assembly repair can be found with ASTM D6705, Standard Guide for the Repair and Recoat of Sprayed Polyurethane Foam Roofing Systems.
Liquid-applied roofing is often selected for smaller complex roofs with many protrusions and details (e.g. above a laboratory or commercial kitchen), which may justify a greater degree of repair and subsequent cost. On larger and more open roofs, limits should be lower—perhaps 20 percent of the roof area. This is due to the fact that, at some point, the economic trade-off of the diminished R-value of the remaining old insulation and decreasing performance of aging materials makes the economics of a quality repair doubtful when the cost of a complete re-roof may be lower.