Pantone, a provider of professional color language standards and digital solutions for the design community, announced 'Ultimate Gray' and 'Illuminating' as the Pantone Color of the Year for 2021. The two independent colors come together to create an aspirational color pairing, "conjoining deeper feelings of thoughtfulness with the optimistic promise of a sunshine filled day."
Illuminating is a bright and cheerful yellow sparkling with vivacity, a warming yellow shade imbued with solar power. Ultimate Gray is emblematic of solid and dependable elements that are everlasting, and provide a firm foundation. The colors of pebbles on the beach and natural elements whose weathered appearance highlights an ability to stand the test of time, Ultimate Gray quietly assures, encouraging feelings of composure, steadiness, and resilience, Pantone said in a press release.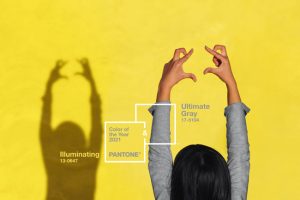 "The selection of two independent colors highlight how different elements come together to express a message of strength and hopefulness that is both enduring and uplifting, conveying the idea that it is not about one color or one person, it is about more than one. The union of an enduring Ultimate Gray with the vibrant yellow Illuminating expresses a message of positivity supported by fortitude," said Leatrice Eiseman, executive director of the Pantone Color Institute. "Practical and rock solid but at the same time warming and optimistic, this is a color combination that gives us resilience and hope. We need to feel encouraged and uplifted, this is essential to the human spirit."
Use
Conveying a marriage of strength and optimism, Ultimate Gray and Illuminating do not have to be used in equal proportions, either color can take precedence whether for apparel, beauty, home furnishings, product design, or packaging.
Design with Ultimate Gray and Illuminating
Ultimate Gray and Illuminating are paired with versatile hues in a series of five palettes, available to designers as inspiration to incorporate into designs via the Pantone Connect digital color platform.
To arrive at the Color of the Year selection each year, Pantone's color experts at the Pantone Color Institute comb the world looking for new color influences. This can include the entertainment industry and films in production, traveling art collections and new artists, fashion, all areas of design, popular travel destinations, as well as new lifestyles, playstyles, and socio-economic conditions. Influences may also stem from new technologies, materials, textures, and effects impacting color, relevant social media platforms, and even upcoming sporting events that capture worldwide attention.
Click here for more information on the Pantone Color of the Year for 2021.