Phipps Conservatory and Botanical Gardens' Exhibit Staging Center (ESC), Pittsburgh, Pennsylvania, has achieved WELL v2 Platinum certification from the International WELL Building Institute (IWBI).
Previously a dilapidated public works building with block wall masonry, a flat roof, and no windows, Phipps transformed ESC into one of the greenest buildings in the world, focusing on the well-being of the facility staff, grounds crew, and the environment in which it exists.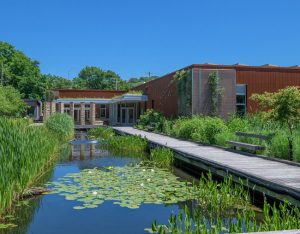 "Human and environmental health are inextricably connected. Designing and building to meet WELL certification goes a long way toward helping us to create beautiful structures contributing to the health of people and the planet," said Richard Piacentini, Phipps president.
ESC is used by facility staff for prop creation and storage for seasonal flower shows. It also features a yoga studio, fitness center, and meditation room to encourage employee mental and physical wellness.
To enhance guest experience, a vestibule of the building is open to visitors, offering a unique behind-the-scenes look at the conservatory's past and future flower shows. Visitors can watch staff working on new props and peek into the exhibit archive room where statuary, props, and other items from past shows are displayed.
To achieve Platinum certification, IWBI completed several performance reviews of ESC and awarded it 88 out of an attempted 90 points based on performance outcomes for various policy, design, and operational strategies. Pittsburgh-based building consultancy firm BranchPattern supported Phipps through the certification process.
Phipps is also currently pursuing Leadership in Energy and Environmental Design (LEED) Platinum and Living Building Challenge Certification for ESC.