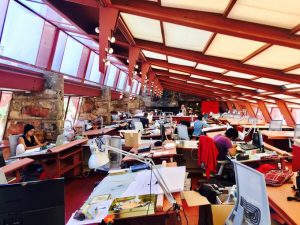 The student body of Frank Lloyd Wright's School of Architecture at Taliesin (SOAT) has started a petition to save the institution, which is slated to close after 88 years. As reported earlier, the school would cease operations of both its campuses in Scottsdale, Arizona, and Spring Green, Wisconsin, in June after a 'gut-wrenching' decision by its governing board.
SOAT was unable to reach a financial agreement with the Frank Lloyd Wright Foundation to keep the school open.
The acclaimed architecture school was established in 1932 by famed architect Frank Lloyd Wright. The school had been integral to Wright's visionary architecture. Top architectural students from across the U.S. and the world have studied there.
"The failure of the Frank Lloyd Wright Foundation and the School of Architecture at Taliesin to reach an agreement regarding the memorandum of understanding [MOU] which would allow the school to remain open for the full duration of its accreditation and beyond, is a stunning failure to Wright's legacy and the intended missions of these organizations," the petition says. "This decision harms not only the school's current students, but also its fellows, alumni, supporters, and the practice of architecture and culture at large."
The petition on change.org has received over 7000 signatures.
"We call upon the Frank Lloyd Wright Foundation and the School of Architecture at Taliesin to reassume the mantle of maintaining Frank Lloyd Wright's legacy, and reopen good faith negotiations to find a solution which unites us in the continuation of this great institution."