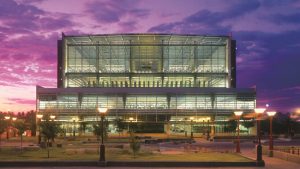 The American Institute of Architects (AIA) is honoring Burton Barr Phoenix Central Library, Phoenix, Arizona, designed by Will Bruder Architects, with its Twenty-five Year Award.
The award is conferred on a building that has set a precedent for the last 25 to 35 years and continues to set standards of excellence for its architectural design and significance.
Despite its origin as a man-made artifact, the 26,013-m2 (280,000-sf) library, with its weathered-copper clad and sculpturally curved east and west façades, has been likened to the many mesas found throughout Arizona. Rising above the low-slung urban fabric of the residential and commercial neighborhoods surrounding it, the library's glazed north and south façades provide a contrast and reveal its true nature, during the day and at night, by offering glimpses of its one million volume collection and the energy of its patrons, AIA said in a press release.
Inside, the library was organized simply as a "warehouse of knowledge" across its five levels. Patrons can enter from either the west or east, where stainless steel clefts in the façades mark the entrances. Waiting to greet them are luminous passages sloping to the library's 27-m (90-ft) tall, skylit atrium as well as three high-speed glass elevators and a translucent grand staircase rising from a reflecting pool. The architecture helps simplify the layout of the library's collection and enhances accessibility. On each level, the glazed north and south walls provide views of Phoenix's urban grid and the mountains that lay just beyond it. On the fifth level, community tables sit below the reading room's 10-m (32-ft) high skylight-punctured roof structure.
Working closely with Ove Arup & Partners, known today as Arup Group, the architects envisioned the library as a hallmark of passive design from the outset. Designing before the creation of the Leadership in Energy and Environmental Design (LEED) program for sustainable design, the team optimized passive energy goals through high-efficiency and innovative mechanical and lighting solutions, chiefly 305-mm (12-in.) precast concrete walls, solar-shaded glazing systems, and gas chillers. In 2010, 15 years after it opened, the library received a LEED-EB Silver rating plaque.
After 25 years of heavy use and shifts in functionality, the library still bears its architectural identity and reflects the need for libraries that can accommodate change, AIA said. Will Bruder Architects has served as the library's on-call architect since it opened, leading the repurposing of its spaces and the addition of new departments, and its meeting and workspace intended to nurture startups.