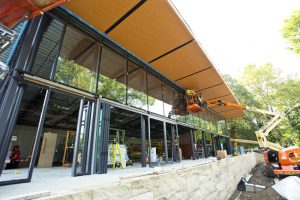 The National Aviary in Pittsburgh, Pennsylvania, completed the installation of glass windows and doors at its Garden Room, a new glass-enclosed venue for weddings, special events, and educational programs that will also serve as a showcase for energy-efficient, bird-safe glass.
Featuring expansive floor-to-ceiling windows fabricated with acid-etched bird-friendly glass and solar control, low-emissivity (low-e) coatings, the Garden Room is designed to protect both the environment and the bird population inhabiting the surrounding city park.
"The National Aviary works hard every day to provide the best possible care for the birds that live with us, as well as those in the wild, through field conservation programs and education," said Cheryl Tracy, executive director of the National Aviary. "As we made plans for the Garden Room, it was important to us to practice these principles by selecting materials that would help keep the wild birds in our neighboring park safe."
Designed by an architectural team led by Pittsburgh-based Tony Pitassi of Perfido Weiskopf Wagstaff + Goettel, the Garden Room features about 251 m2 (2700 sf) of glass. Working as a group, Tracy, the architect, and the design team consulted with experts from a glass manufacturer, coatings producer, and the American Bird Conservancy to consider a range of glass options to reduce bird collisions while enhancing the bright, open aesthetic of the new space.
"The National Aviary's bird experts were integral to designing a façade that meets bird-safe standards," said Pitassi. "Given the desire for transparency in the building envelope and the need to complement the site's natural environment, maximizing the use of glass was an imperative."
The acid-etched bird-safe glass design helps birds to 'see' expanses of glass by meeting an industry standard known as the "2×4" rule, which dictates that visual elements in a bird-safe glass pattern appear at least 50 mm (2 in.) apart horizontally or 100 mm (4 in.) apart vertically. The National Aviary's design team selected a horizontal-stripe pattern for the Garden Room.
The solar control, low-e coatings specified with acid-etched glass will enable the National Aviary to operate more efficiently by blocking more than 70 percent of the sun's heat energy while transmitting high levels of daylight to reduce artificial lighting costs. The result will be a venue that is brighter, more comfortable, and better for the environment because it consumes less energy.