Conclusion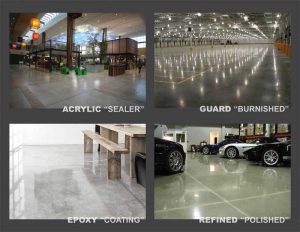 Liquid-applied 'doping-agents' and 'finishing enhancers' that are used to manage the grinding and polishing process suffer from the same contractor-derived meanings as grits. They are helpful for describing the process, but not for illustrating the qualitative slab properties, such as stain resistance, water repellency, or COF, a design professional wants to achieve. Each of these properties could require different liquid-applied products or grit profiles. Specifications describing 'sealers' or 'densifiers,' in general terms, cannot fully provide the required performance values to explain the required degree of stain resistance. A performance requirement must describe what stains the finish is required to resist, be that orange juice, ketchup, and mustard, wine and beer, or animal byproducts, as all of these may require a different doping-agent or combination of sealers and densifiers to achieve the expected performance.
Simply stating constructor terms has done a disservice to the industry as a whole by trying to market various doping-agents into niche categories. Very few people are able to determine the difference between the sealers and physically refined polished floors. Stating the use of the different doping-agents without mentioning the performance expectations can lead the contractor to propose substitutions. Only few specifiers can determine potential differences, and only after floor performance is affected.
The lack of standardized terminology results in bids, including fully refined, ground, and polished concrete floors as well as surface-applied sealers or coatings. Using contractor terminology to build a means and methods specification always backfires, and the nature of the language leaves the design firm and owner at risk for poor outcomes.
Specifications with micro-surface benchmarks measured in microinches (μin) or micrometers (μm) as a means to describe surface profile and COF combined with distinctiveness of image to confirm the aesthetic appearance can successfully describe performance criteria without relying on application of resinous coatings or topical sealers.
Chris Bennett, CSI, is the owner of Bennett Build, a network of construction professionals and researchers dedicated to helping organizations understand and solve concrete and flooring problems. He can be reached via e-mail at chris@bennettbuild.us.
Keith Robinson, RSW, FCSC, FCSI, is an associate at Dialog in Edmonton, Alberta. Robinson also instructs courses for the University of Alberta, acts as an advisor to several construction groups, and sits on many standards review committees for ASTM and the National Fire Protection Association (NFPA). He can be reached at krobinson@dialogdesign.ca.