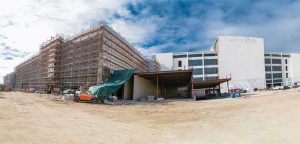 Real-world application
Understanding the principles and methods for controlling water vapor is all well and good, but how does it work in a practical application? A recent residential project in Marietta, Georgia, provides a good example of how ISO insulation helps control moisture issues.
Homeowners Jon and Rachel recently remodeled their basement to create a comfortable suite for Jon's mother. The previous structure of the basement made it difficult to comfortably control the basement temperature, and condensation issues had led to a strong, musty odor. The couple had already decided to install a second HVAC unit to help control the basement temperature, though they were concerned about increasing energy usage. They also knew they needed a better way to control moisture to rid the area of its musty smell.
Jon and Rachel decided to incorporate a better insulation solution to create a comfortable environment. They installed foil-faced continuous ISO insulation on the interior side and directly to the basement walls. Since the foil-faced ISO insulation is vapor impermeable and the basement is below grade, wood framing and drywall were placed on the interior side of the ISO. This protected the wood and interior finishes from moisture moving inward through the basement wall. There was no additional vapor retarder placed behind the finish on the wood frame, as the foil-faced ISO provided for insulation and a properly located vapor retarder for the basement wall. In the end, this approach solved their moisture-control issues and created a healthier, cleaner environment. As an added bonus, Jon and Rachel have noticed little change in their energy costs because the new basement space is so energy efficient.
In the case of this application, the insulation method was a simple and effective way to control moisture issues with few compromises. While each project requires builders to consider a variety of factors, such as the thickness of the wall design, extreme climate, or the client's budget, the insulation method can be applicable in a variety of both residential and commercial applications.
Conclusion
While every project and its specifications will be different, the vapor control and insulation methods described above are available and generally applicable to optimize wall performance and minimize moisture issues.