by Tom Robertson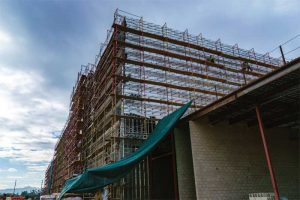 The world of construction is filled with contronyms—words having two completely opposite meanings. Has a building weathered many seasons, or is it falling apart because it is so weathered? Is the contractor providing good oversight, or did an oversight set off an angry client? Anyone in the construction industry can vouch that almost nothing is ever quite as straightforward as one might hope.
Like a contronym, here is another word that causes plenty of headaches—vapor retarder. In a given application, it can have opposite effects depending on its properties and conditions of use.  Employed correctly, it can help keep structures dry, and when used incorrectly, it can contribute to moisture accumulation and prevent structures from drying. This creates a paradox of sorts because some vapor retarder materials, like polyisocyanurate (ISO) insulation, may be perceived as a problem. In reality, such materials can provide a simple and effective solution to water, air, vapor, and thermal control for building enclosures. The solution is proper application in coordination with the climate conditions and the overall design of any building envelope assembly (i.e. above-grade walls, below-grade basement and crawlspace walls, and roofs).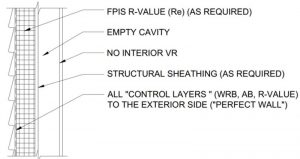 In its different forms (liquid, vapor, and solid), water is the great enemy of long-lasting, efficient construction. Water can cause sound structures to crumble from corrosion, rot, and rust. It can provide an environment for harmful mold that can be difficult and expensive to eradicate. It can completely ruin a building's aesthetics. Water is, quite literally, a relentless force of nature for good or bad. This natural dichotomy is why it must be managed or controlled in any reasonable design approach and can never be completely eliminated.
Above-grade vapor control methods
The ideal wall is one that provides an uninterrupted thermal barrier to keep the building envelope protected and ensures long-term energy efficiency. To that end, a building must be resistant to water and air, manage vapor, and limit heat transfer, prioritized in that order, as detailed by Dr. Joseph Lsitburek of Building Science Corporation in his description of 'the perfect wall.' As shown in Figure 1, the perfect wall has all of the control layers (water, air, thermal, and vapor) located on the exterior side of the building envelope assembly and thus entails the use of continuous insulation (ci) materials like ISO. For example, an interior vapor retarder is not required and instead the vapor control layer is provided on the exterior side (e.g. by the inner facing of the foil-faced ISO). This maximizes the ability of the assembly to dry to the interior. While the perfect wall may indeed be the ideal solution, there are other wall configurations that will perform well for a given application.
One example of an 'optimal' variant from the perfect wall is an above-grade wall with a combination of cavity insulation and exterior ci for thermal control to satisfy the energy code. This is also known as a hybrid wall (Figure 2). A key design consideration is the insulation ratio which compares the exterior ci R-value to the cavity insulation R-value—material properties that are readily available and familiar to building professionals. When exterior ci materials like foil-faced ISO are used for this purpose, it provides thermal control, thereby, saving energy and preventing thermal bridging through wall framing. It also prevents moisture accumulation by shielding the wall from outdoor water-vapor sources in the humid summer while keeping the interior of the wall warm during the winter to prevent condensation or high humidity. This is particularly true when the ci is also approved for use as a water control layer (i.e. water-resistive barrier [WRB]) and air barrier. For any wall design, it is of primary importance to control water and air movement. In other words, it is pertinent to never overlook the perfect wall priorities mentioned earlier, even if specifying a variant like the hybrid wall.