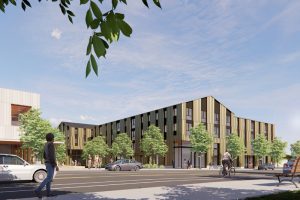 Aimed at receiving Earth Advantage Platinum certification—based on energy efficiency, optimal land use, sensible water technology, and sustainable materials benchmarks—a housing project in Portland has incorporated cost-saving and cost-efficient methods into its design.
The strategies include optimizing building plan dimensions and floor-to-floor heights to minimize wood-framing and gyp-board waste, structural design eliminating the need for a more expensive post-tensioned concrete slab, and thoughtful placement of exterior glazing to optimize the overall window-to-wall ratio.
The project, located in Cully Neighborhood on Killingsworth Street, is a collaboration between Portland Community College (PCC) and Home Forward, a public corporation contracted with the federal government to administer housing programs. Hacker Architects completed the design of the four-story, 8152-m2 (87,742-sf) housing development. Other collaborators on the project are the contractor, O'Neill/Walsh Construction, the landscape designer, PLACE, the civil engineer, VEGA Civil Engineering LLC, structural engineer, ABHT Structural Engineers, mechanical and plumbing engineer; as well as electrical engineer, lighting designer, O-LLC, acoustical engineer, Listen Acoustics, signage and wayfinding designer, Ambrosini Design, code and accessibility consultant, Code Unlimited, and specifier firm, m.thrailkill.architect.llc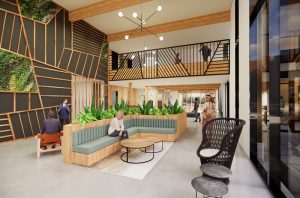 The project will provide 84 economically and family-friendly apartments, serving a resident population at or below 60 percent median family income. The units will prioritize flexibility and comfort, and support a variety of living situations for tenants with different needs, including adequate room for families and single parents, as well as bedroom schemes for multiple adult roommates.
The site also houses PCC's new Opportunity Center and a childcare center—both of which will be resources for residents. The 1.21-ha (3-acre) site design strives to balance the sensitive transition of a larger housing project with the surrounding neighborhoods, while simultaneously maintaining an active public scale and providing a civic permanence.
A public plaza will connect the two centers with a space to host community gardens, job fairs, farmer's markets, and other neighborhood gatherings serving residents and PCC students.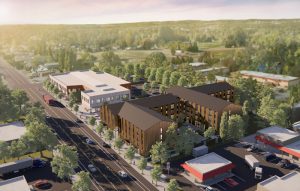 Simple gabled forms are arranged to create a pair of private courtyards and to activate Killingsworth Street, along with a 'plaza street' shared with the new Opportunity Center. These agrarian and unassuming forms, combined with a playful pattern of textured metal siding, will break down the overall massing and add visual interest referencing the unique character of the neighborhood.
The project's expected completion date is August 2024.