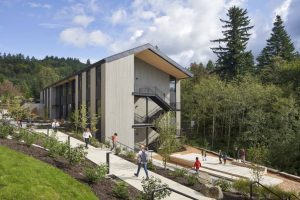 Gilkey International Middle School in Portland, Oregon, recently underwent a transformation to enhance its learning spaces, foster a stronger connection with its natural surroundings, and allow for greater social development of its students.
Portland-based studio Hacker Architects was responsible for the architecture and interiors, while PLACE provided landscape architecture services. Standridge, Inc. served as the civil engineer, Madden & Baughman Engineering, Inc. was the structural engineer, and PAE was the mechanical, electrical, and plumbing (MEP) engineer.
The project client, French American International School (FAIS), began thinking about how to replace their 20-year-old modular structures with permanent buildings, designed to optimize social independence for middle school students and enhance their learning. At the time, the students were taught in scattered buildings with outdoor circulation in a rainy climate, with no dry, tempered social spaces for gathering, informal learning, or independent student discovery. This led FAIS to choose the new middle school as their first prioritized project.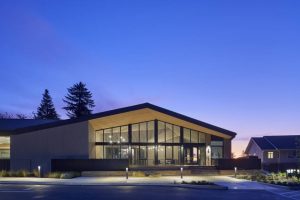 FAIS set bold goals for sustainability and resilience for the school and the rest of the campus. Its multilingual and internationally focused curriculum aims to prepare the next generation of global leaders and creative thinkers. It has also been strongly influenced by the adjacent forest and the abundance of hands-on learning opportunities in the habitats, ecosystems, and life cycles students can observe there.
The design solution took inspiration from the nurse logs downslope of the site, whose decomposing masses serve as a nutritive substrate for a diversity of seedlings native to the forest. Hacker's vision for the 2462-m2 (26,500-sf) project emerged out of this environment—to create a habitat for middle schoolers which would feed their hearts, minds, and bodies; encourage them to work in collaboration with their teachers; and challenge them to find their own inspiration and independence.
The design concept clusters the program spaces to create "cabins in the woods," another element inspired by the forest setting. It consists of 14 classrooms, five teacher pods, and administration offices. Each cabin's interior and exterior walls are clad in wood, bringing the forest through the building and blurring the lines between inside and out. The cabins are organized in a boomerang shape, which follows the site's topography, then unites under a roof with a sculptural form framing the view of the forest beyond. The space between the cabins is defined by large operable windows, visually and audibly connecting inhabitants to the forest and to the community activity.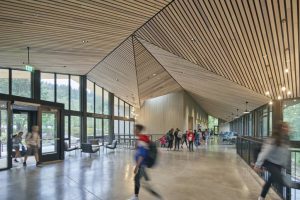 A single-loaded corridor provides informal social learning, along with the Hub, a central two-story gathering space anchoring the entry sequence and promoting wayfinding throughout the building's form. This configuration provides ample daylight and a connection to the landscape, while simultaneously allowing cross-ventilation to occur naturally.
The project is compliant with AIA 2030 guidelines, as well as the Energy Trust of Oregon's Path to Net Zero program.