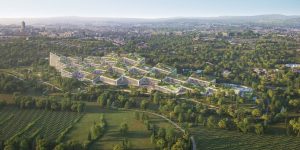 Fuse Valley, designed by Bjarke Ingel Group, is organized around plazas, parks, and courtyards which are landscaped on a series of urban terraces connecting the main road to the east, with the Leça River to the west.
As an artificial extension of the hillside, the roofs of the new buildings rise and fall to create peaks and valleys, with slopes and terrace of the river. Natural paths extend from the landscape to the roofscape, creating wayfinding for people to move around. On the ground floor, the façades recede to expand the public realm, creating natural canopies to welcome visitors, collaborators, and courtyards that act like canvases for different artistic expressions.
Along the central arrival axis, an urban alley opens all the way from the street to the river, featuring all the major public programs and facilities.
Each building is tailored to its specific program, with floorplans creating a lively and varied interior architecture. Atelier-like attics with additional ceiling heights and open mezzanines are created by the sloping roofs of the buildings.
The interior provides a biophilic environment that aims to increase productivity and well-being. The dense urban fabric and ample vegetation provides a naturally shaded and cooled environment.
"Rather than a corporate office complex, Farfetch's future home in Fuse Valley will be a lively urban ensemble bringing every curato urban fabric will allow Fuse Valley to grow and expand organically, like a natural village," says Bjarke Ingels, Founder & Creative Dire.