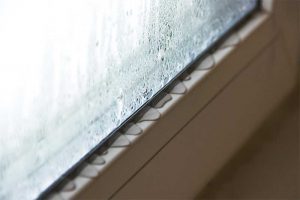 Given the possible consequences, designers and specifiers are advised to verify the performance of the design and installation method of fenestration systems. This is especially important for customized project-specific designs, before the surfacing of post-installation problems that will be time-consuming and expensive to rectify.
There are several ways to assess potential and actual condensation performance, such as:
comparison of standardized similar products;
before design (predictive); and
design verification via pre-installation testing.
Several published methods serve as aids to implement these approaches.
Comparison of standardized or similar products
Three different condensation rating systems are available: the Fenestration and Glazing Industry Alliance's (FGIA's) condensation resistance factor (CRF), the National Fenestration Rating Council's (NFRC) condensation rating (CR), and the Canadian Standards Association's (CSA's) temperature index (I). All three allow comparison of the condensation resistance performance of similar types of complete fenestration products and serve as a basis of specifications for non-condensation-critical applications (schools, offices, and some retail buildings). All use a numerical index between 1 and 100 with higher values indicating better performance. While similar—all are based on standardized conditions of –17.8 C (0 F) exterior ambient air temperature and 21 C (70 F) interior room temperature—they are determined by different methods.
Condensation resistance factor
CRF is derived from actual interior surface temperature readings obtained from laboratory testing of samples or design mockups per the American Architectural Manufacturers Association (AAMA) 1503-09, Voluntary Test Method for Thermal Transmittance and Condensation Resistance of Windows, Doors and Glazed Wall Sections, an FGIA document; or from NFRC 100-20, Procedure for Determining Fenestration Product U-factors.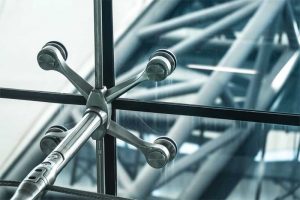 CRF is a dimensionless ratio of laboratory-measured temperature differentials, derived as defined in AAMA 1503 that serves as a rating number. It is obtained under specified test conditions in order to allow a relative comparison of the condensation performance of a product. CRF provides a comparative rating and permits the determination of the conditions beyond which an objectionable amount of condensation may occur.
The most direct application of the CRF value is its use in the prediction of what set of exterior temperatures, interior temperatures, and interior humidity conditions will initiate condensation. It may also be used for comparative analysis of similar products of the same general configuration, although some interpretation may be needed in comparing dissimilar products (e.g. wall sections versus operating windows or fixed glazing).
Specifically, CRF is the numerical value determined by the lower of either the weighted frame temperature (FT) or the average glazing temperature (GT) in relation to the difference between the cold side air temperature and the warm side air temperature.
During the guarded hot box test described in AAMA 1503, interior surface temperatures at 24 locations are monitored using thermocouples, after the test specimen reaches steady state conditions. The minimum of glass surface temperature (GT) or coldpoint-weighted FT is used to calculate a unitless ratio, which is multiplied by 100 to yield a whole number CRF.

where:
Tint = average temperature of warm side air in degrees F;
Text = average temperature of cold side air in degrees F;
100 = a multiplier to make CRF a whole number;
FT = weighted average frame temperature in degrees F, as defined in AAMA 1503; and
GT = average glazing temperature in degrees F, as defined in AAMA 1503.
CRF is thus essentially the ratio of the difference between the lower of a product's average interior frame and glass temperature (as separately determined) and the exterior ambient air temperature, divided by the interior/exterior ambient air temperature differential.
Note that the lower performing glass or frame determines the value of the overall product CRF.
As per AAMA 1504, Voluntary Specification for Thermal Performance of Windows, Doors and Glazed Wall Sections, an FGIA document, the product CRF should not be less than the value shown for the corresponding "CRF Class" in Figure 1.
The higher the number, the stronger the product's tendency to be able to resist condensation.