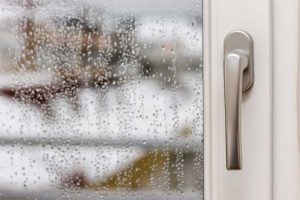 FGIA also offers a CRF tool to assist specifiers in determining a target minimum CRF based on a project-specific set of environmental conditions.
The CRF tool is a quick online calculator to determine the dewpoint temperature, as well as the CRF, by entering winter outdoor and indoor design temperature and the RH for the project location. For example, given an indoor air temperature of 21 C (70 F) and an indoor RH of 40 percent, the recommended CRF of the same type of product for use in Atlanta is 50, while it is 70 for use in Minneapolis.
Specifiers can obtain CRF figures for specific products or designs under consideration directly from various manufacturers, thereby determining the best-performing existing or proposed product for the chosen application.
Condensation resistance measurement
CR measurement is similar to FGIA's CRF. The principal difference is that CR is derived from simulations using software tools (Lawrence Berkeley National Laboratory's THERM and WINDOW programs) to model and calculate a CR rating, while the AAMA CRF is derived from actual test data. The CR method is described in NFRC 500-2020, Procedure for Determining Fenestration Product Condensation Index Ratings.
Temperature index
The I rating, like CRF, is obtained through laboratory testing at standard test conditions, albeit with different thermocouple locations, as prescribed in CSA A440.2, Fenestration energy performance. Generally, a given product's temperature index will be lower than its CRF.
It should be emphasized that CR, CRF, and I ratings differ significantly, are not interchangeable, and no method exists to convert between the different indices. A manufacturer will typically settle on only one of these ratings for all its products.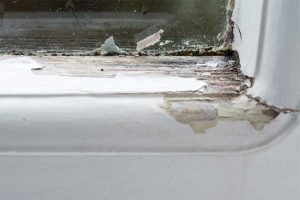 It is important to also note the usefulness of such ratings or indexes in assessing and predicting condensation performance is limited for condensation-critical applications. They are particularly less reliable when used with curtain walls due to the heightened importance of several variables, such as the thermal conductivity of surrounding building construction, interior/exterior trim, humidification control, and the method of heat distribution on the interior plane of the assembly.
An FGIA publication, AAMA CRS-15, A Comparison of Condensation Rating Systems for Fenestration, describes the three methods in detail, including calculation formulas and applications.
Predictive analysis before design
During the design and development of curtain wall systems, it is recommended the design engineer determine the appropriate level of condensation performance for a particular occupancy and given a set of stakeholder expectations. For example, the following questions should be addressed to determine the degree of condensation prevention:
is the effect of potential visible condensation on aesthetics very critical;
are there window coverings or recessed window wells that could block airflow;
are window coverings controlled by occupants;
are there any health or comfort concerns with the effects
of condensation;
is the building occupied 24/7 so that nighttime condensation would be apparent;
is the interior humidity mechanically controlled; and
would condensation affect the product's useful life, durability, or (if applicable) warranty?
During the design stage of a wall system, engineers often use two-dimensional finite element (FE) thermal modeling tools to predict interior surface temperatures for standard or project-specific conditions. In the case of custom-designed curtain wall, this process can be complicated by a variety of factors, such as conflicting project specifications, model accuracy for aluminum framing, repeatability/reproducibility of modeling and testing, effects of substrates, and end-user expectations. AAMA 515-19, Voluntary Procedure for Determination of Fenestration Surface Temperatures by THERM Modeling, an FGIA document, offers guidance in applying FE analysis to improve its applicability to curtain wall thermal performance including condensation.
The project-specific variables inherent in a custom-designed curtain wall system introduce an additional level of complication in the case of custom-designed curtain wall systems. For this reason, predictive methods may not be sufficiently reliable to verify accrual performance and avoid liability.
Design verification via testing
Large curtain wall mockups are often built to replicate an area of fenestration and the surrounding wall construction. These mockups can then be subjected to a battery of tests to check resistance to water penetration, seismic and wind-induced inter-story drift, and human impact.
A similar approach can be used to evaluate condensation. AAMA 501.9-19, Surface Temperature Assessment for Condensation Evaluation of Exterior Wall Systems, an FGIA document, prescribes a standardized means to evaluate the potential for formation of condensation on interior surfaces under wintertime temperature and humidity conditions using large, job-specific curtain wall mockups. This is accomplished by measuring interior surface temperatures and comparing them to anticipated dewpoint temperatures likely to be experienced at the actual project site. This method does not provide a rating or quantitative measure of condensation.
To apply AAMA 501.9, the specifier must first determine the exterior and interior winter design conditions for the project, including interior temperature and humidity levels and exterior temperature. If no conditions are specified, the default exterior temperature is determined per the latest the American Society of Heating, Refrigerating and Air-Conditioning Engineers (ASHRAE) Handbook of Fundamentals, based on data from the closest weather station to the project site. Absent this information, the default interior temperature and humidity used to determine dewpoint is 21 C (70 F) and 25 percent RH unless otherwise specified.