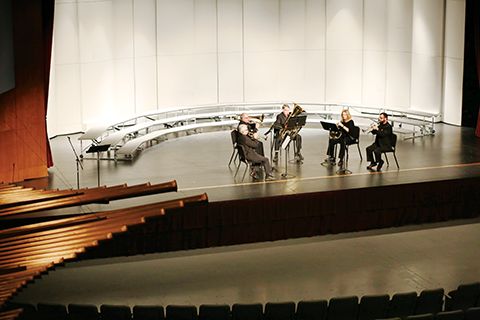 by Ron Freiheit, FASA
Superior musicians demand the best from themselves. Facilities with the proper acoustics can support musicians' artistry, helping to elevate performances to the highest level. To improve the sound quality of its chapel-auditorium, Wartburg College chose a new technological solution—an active acoustics system. The school, which is located in Waverly, Iowa, premiered the system in October 2015.
For Lee Nelson, director of the Wartburg College Choir, acoustical shortcomings meant his group had avoided the school's largest performance space—Neumann Auditorium. It opened in 1960 as a chapel-auditorium, intended primarily for convocations and religious services. However, as it was designed to host spoken-word events, its acoustics were dry and unresponsive for musical performances.
Unfortunately for the choir, a dry acoustical space is far from the reverberant, cathedral-like spaces for which most choral works, especially classical repertoire, were intended. The lack of aural feedback also hindered the choir and the director; it was difficult for musicians to hear each other, develop critical listening skills, and unite to form a cohesive sound.
This is a common problem at many colleges and high schools: no one venue is ideal for all types of musical performances.
"If it's good for the band, it's bad for the choir. If it's good for the choir, it's bad for the band," explains Nelson. "Neumann Auditorium was good for our instrumental ensembles, not great for the orchestra, and downright terrible for the choir. We didn't perform there because it was unusable."
"With singing or playing an instrument, so much of it is psychological. If the room's not helping you sing or project your sound, you start working harder and using poor technique," he added.
Flexible solution
The acoustics of a highly reflective, reverberant space can be tamed with traditional 'passive' sound-absorption solutions like acoustical panels or acoustical banners on the walls or ceiling. However, transforming a dry acoustical environment into a more reverberant space was impossible without physically altering the structure to add cubic volume. In the last 25 years, technological advances provided another solution: active acoustics.
This type of system uses microphones mounted near the stage to capture sounds, modify them with digital signal processor computers, and play them back through a network of speakers mounted on the auditorium's walls and ceiling. In real time, performers and audience members alike perceive the aural sensation of a digitally modeled, acoustically enhanced space. With the touch of a button, the system can easily adjust for different types and even sizes of ensembles—instrumental versus choral, for example—along with spoken-word events.
Active acoustics systems can also compensate for acoustical deficiencies caused by certain architectural elements in a performance space. For example, the area under a balcony often suffers from poor, or 'dead,' acoustics. With an active acoustics system, audience members sitting in these areas—or anywhere else—can enjoy optimal sound quality.
Technological improvements have reduced the number of microphones needed. This simplifies installation and improves system stability, as fewer microphones reduce the possibility of distracting feedback. By using passive loudspeakers instead of self-powered ones, installation is also more streamlined and cost-effective.