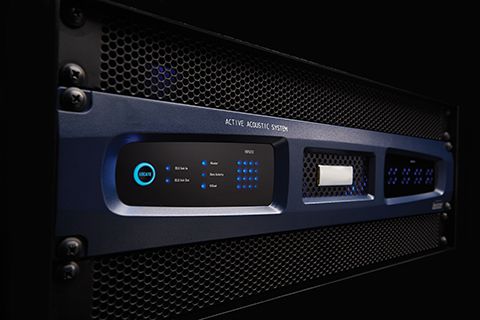 Technology at fingertips
Although the active acoustics technology at Wartburg is sophisticated, users operate the system with either a full-featured touch-screen interface in the control booth or a simplified eight-button control near the stage. The system is designed to provide easy, intuitive operation. The automatic voice-detection capability—optional for each preset setting—creates the proper amount of reverberation when speech or singing is detected.
For this particular proprietary assembly, between six and eight different settings are programmed by system engineers; settings are fine-tuned to meet customer satisfaction and to maximize acoustical flexibility. Once programmed, the settings are inaccessible to users to help ensure proper system performance. When a user selects any preset setting, more than 5000 parameters are activated, including gain, equalization, input from active microphones, active acoustics parameters, and information on delays and routing for each of the 32 output channels wired to amplifiers.
New possibilities
With this active acoustic system installed, Neumann Auditorium has been transformed from a dated, problematic facility to a showplace for Wartburg College's music programs. For the first time in years, the band, orchestra, and choir can put on shows like their annual homecoming and Christmas programs together in the same venue.
The active acoustic system also makes it possible to perform classical pieces composed for choir and orchestra, which were avoided in the past due to concerns about sound quality. Further, unlike traditional, passive acoustical treatments, this new system provides the flexibility to creatively embrace new music programming options.
"You can create a choral/orchestral performance setting, a choral setting for cathedral performances, and a setting for a piano concerto—all within the same concert if you wish," explains Nelson. "And all settings can be stored and recalled at any time."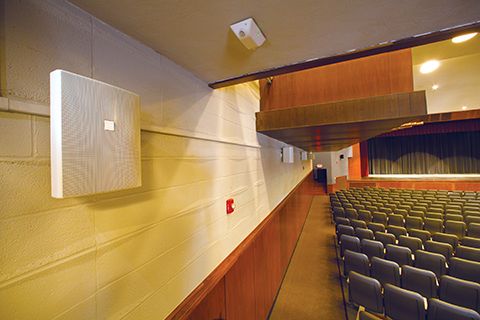 It is now possible to create a choral/orchestral performance setting, a choral setting for cathedral performances, and a setting for a piano concerto all within the same concert, with the settings stored for later recall.
This new system has also become a selling point in the battle to attract talented student performers, events, and concerts. Prior to the installation, Neumann Auditorium's less-than-ideal acoustics were a drag on recruiting efforts, and made it impossible to host concerts by certain artists and bands.
"We'd rarely show our prospective music majors the space," said Nelson, "because it wasn't a good place to perform."
After the installation, Nelson is eager to show off the system's capabilities.
"Before, we had ensembles, festivals, and competitions that didn't look at Wartburg simply because there wasn't an appropriate performance venue," he said. "One of our biggest competitors has a great performance venue. Now, we can compete with that. It puts Wartburg in a different league."
Ron Freiheit, FASA, is director of design engineering at Minnesota-based Wenger Corp., a manufacturer of specialized products for music education, performing arts, and athletic markets around the world. Freiheit is a fellow of the Acoustical Society of America and has presented at ASA meetings nationally and internationally. He is also a member of the Audio Engineering Society (AES) and the Institute of Noise Control Engineers (INCE). Freiheit received a U.S. patent for acoustic virtual environments. He led Wenger's creation of an anechoic choral recording to support auralization demonstrations; these free recordings are provided to research groups and institutions globally. Freiheit holds a bachelor's degree in electrical engineering from Southern Polytechnic Institute and completed graduate studies in acoustics at Penn State. He can be contacted at ron.freiheit@wengercorp.com.