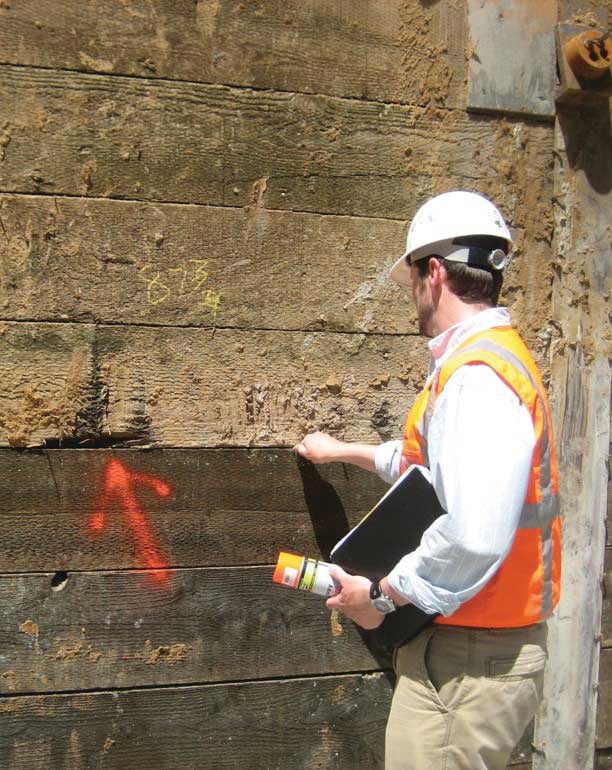 Reports
Inspection reports should provide sufficient data so all involved have enough information to review and act upon as applicable. For example, an inspection report should include at
a minimum:
date and time of inspection;
site map indicating exactly the work area inspected that day or within a specific report;
photos of installation, both overall area and close-up of details, especially of any nonconformity (photo captions accurately describing the issue must accompany the pictures);
nonconformity section listing and describing each one of them as a separate item (this then becomes the corrective action list to verify that any nonconformity has been taken care of prior to concrete pour or backfilling);
weather conditions should be recorded (e.g. temperature and precipitation); and
name and signature of inspector.
A manufacturer may have their own inspection report template for approved inspectors to use, including an inspection app for processing and forwarding the completed report. However, in this author's experience, many consulting
and engineering firms create their own template. No matter the form used (as decided in the pre-con meeting), all of the required information should be recorded in the report.
Nonconformance management
The primary purpose of inspection is to identify, report, and document all observed nonconformance. The report is the tool to communicate the issue requiring action, and also has space for future entry of the time and manner of correction. The inspector is responsible for documenting the nonconformance, verifying corrective action, and then documenting the correction. For this purpose, all inspection reports should be required to have a tracking list for action items.
It should be noted an inspection program can have a distinction between nonconforming work addressed on the spot and items requiring review and address after the inspection. The first is addressed by immediate action, at the time of the inspection, to eliminate an observed nonconformance. These actions typically involve rework or repair conducted and completed during the inspection. Thus, the issue is addressed in full and the item is not recorded as a nonconformance in the report.
Nonconformance items that cannot be addressed in full during the inspection or requiring review prior to corrective action should be recorded in the report, thereby setting in motion corrective actions to resolve the nonconformance.
Compliance of results to the construction documents must be certified by the presence of the inspector's signature, with job title, name, and the date of inspection on the report. If inspection is unsatisfactory, this should be noted, and the process continued.
On completion of a particular corrective action, an inspection document should be filed to provide evidence of compliance with specified requirements. The report and other follow-up documents, if used, should be compiled. This should also be included in the permanent project records.
Conclusion
The establishment of a quality assurance inspection program is extremely important for successful below-grade waterproofing. Material installation and substrate requirements should be clear and verifiable, so all parties in the project can understand the requirements for conformance. Critical to the process is promptly reporting and taking corrective action to resolve any nonconformance.
Stacy Byrd, CDT, is the global technical services director at CETCO, a manufacturer of waterproofing, green roof systems, composite drainage, and waterstops. He has 28 years of technical waterproofing design application and practical field experience with below-grade foundations, plaza-decks, tunnels, and green roofs on commercial, institutional, civic, and government projects around the world. Byrd is an active member with ASTM International Committee D08 on Roofing and Waterproofing. He can be reached at stacy.byrd@mineralstech.com.