Quality assurance of waterproofing
by Katie Daniel | April 3, 2018 10:54 am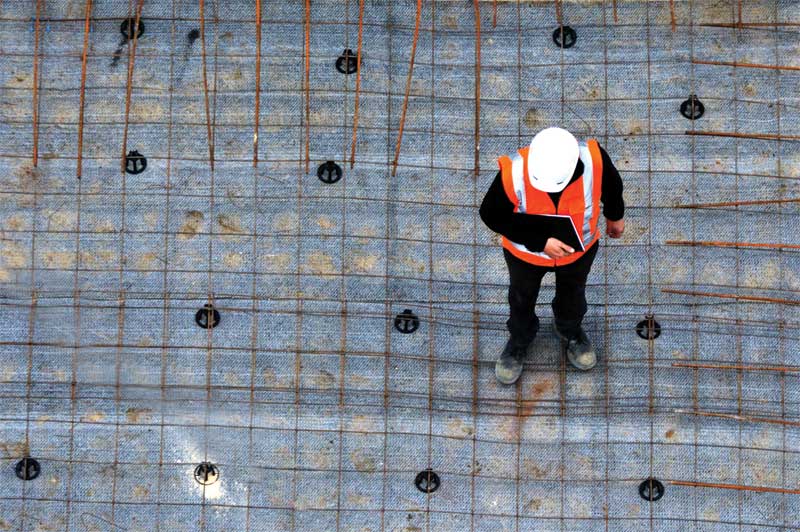 by Stacy Byrd, CDT
For roofs, concrete assemblies,  and mechanical systems, there is an established tradition of testing and inspection to verify both the material installation and construction meet the specified design criteria. Owners usually accept this without hesitation, and are ready to pay for the expenses. Unfortunately, this tradition of inspection and verification is not followed in below-grade waterproofing where the tendency has been to place the responsibility on the contractor's shoulders. This may be the reason why almost everyone in the construction industry has a horror story regarding leaks and damages in their below-grade projects.
Like roofing, waterproofing below-grade elements is critical to keeping the built environment healthy for occupants. There are many waterproofing systems in the marketplace, and the key to success is understanding their limitations. When considering the high cost of excavating and replacing a failed system, it is imperative all waterproofing systems are properly designed and inspected, no matter the warranty or guarantee being provided. The warranties for any particular system are based on materials selected and details used. As they typically range from five to 20 years, the specifier should contact the manufacturer for actual requirements and specific guarantees.
Proper waterproofing selection and comprehensive documentation are the first steps toward waterproofing success. It is equally important to specify the Quality Control Inspection Program (QCIP) for reviewing and monitoring the work for conformity during the construction phase itself to ensure the document's objectives are met. (Consult "Quality Control Inspection Program Counterstone of a High-Performance Project Organization" written by Jose Reyes and published in the April 2012 edition of Organization, Technology, and Management in Construction.) Additionally, the inspection protocols should be precise and easily understood to avoid misinterpretation. The tasks defined in a QCIP must aim to be preventive rather than corrective.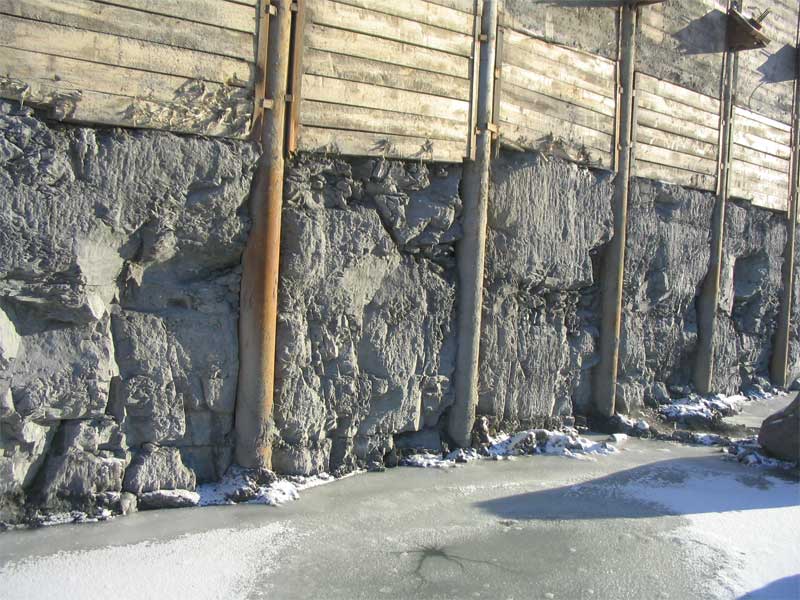 Comprehensive documents
Specifications for waterproofing fall under Division 07, Thermal and Moisture Protection, of MasterFormat 2016. (For more information, read "Waterproofing With Comprehensive Documents," written by Stacy Byrd for the October 2005 issue of The Construction Specifier.) However, it is important to coordinate Division 07 work with other divisions, especially Divisions 03 (Concrete) and 31 (Earthwork), both of which can have a major impact on waterproofing. Divisions 22 (Plumbing) and 26 (Electrical) should also be considered, as pipes or conduit may penetrate the waterproofing. Within Division 03, the waterstop may need to be coordinated with the specified waterproofing membrane because many manufacturer warranties require the use of their own waterstop.
Comprehensive documents necessitate a pre-installation meeting, prior to site excavation. If the construction involves blindside waterproofing, it is important a support of excavation (SOE) is built so the waterproofing system can be installed
in conformance with the specification and manufacturer guidelines. The specification should also provide for a quality assurance program built upon independent inspection allowing verified conformance of the work eligible for warranty. Specific details illustrating the installation of the waterproofing system at all known conditions must be provided before the bid, with these initial details supplemented with additional job-specific details to address all unique conditions not covered in the original document.
The specification should also require the subcontractor be an approved applicator of the waterproofing system manufacturer to comply with warranty guidelines. Contractors should be required to submit applicator certification at time of bid. Professional training must be extended to the installer's crew members—so that field personnel have the requisite knowledge. Identification cards can also be issued to those who successfully pass the program.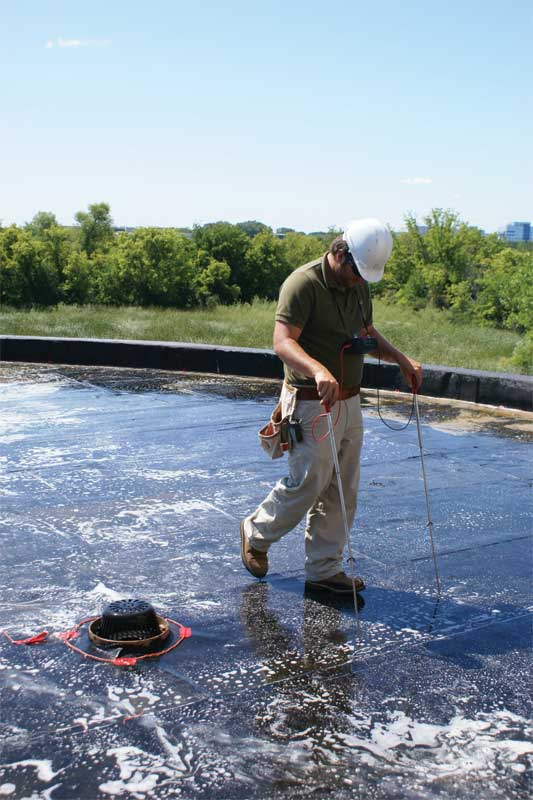 Warranties
A warranty is simply a written guarantee, issued to the owner, promising to repair or replace the waterproofing proven to be defective within a specified period of time. Unfortunately, warranties are misunderstood in many cases, or worse, sometimes misrepresented. Warranty should not be confused with an actual proactive quality assurance program monitoring the waterproofing work throughout the construction phase.
Some owners, architects, and contractors choose a waterproofing system primarily for its warranty duration. Historically, most manufacturers warrant their product from one to five years. Occasionally, a longer period warranty will be provided for a very large project or one of exceptional importance.
Some companies offer "lifetime" warranties. These should be interpreted carefully. Most states have placed legal restrictions on what the lifetime warranty of a construction product can be—seven to 15 years is common. Additionally, insurance companies typically limit the time period for which subcontractors can purchase liability insurance for materials installed. Waterproofing contractors can typically bond their work for no more than five years. One must be wary of accepting a long-term warranty from vendors who have been in the business for only a few years because a warranty is only as valuable as the financial soundness of the issuer.
Most owners are surprised to learn the coverage limitations of warranties—many are prorated and others are limited to the original material cost. The language used to draft warranties can be confusing. The perception of what the warranty covers, and what it actually covers, can be quite different. For example, both product A and B have a 10-year warranty, but there is a slight difference in the language—"labor and material" for A vs. "material" for B. These simple words change the entire scope of the issuer's liability and responsibility.
Pre-construction meeting
Why does every major league baseball game have a pre-game meeting at home plate with team managers and umpires? Each baseball stadium, like each construction project, is slightly different and the teams need to cover unique points to establish ground rules for the game in a specific stadium. Similar to the home plate meeting, the project construction documents necessitate a mandatory
pre-construction (pre-con) meeting to review the waterproofing materials and design as well as construction technique and sequencing. It is also important to cover the requirements of the quality assurance plan so the project continues to maintain its warranty eligibility.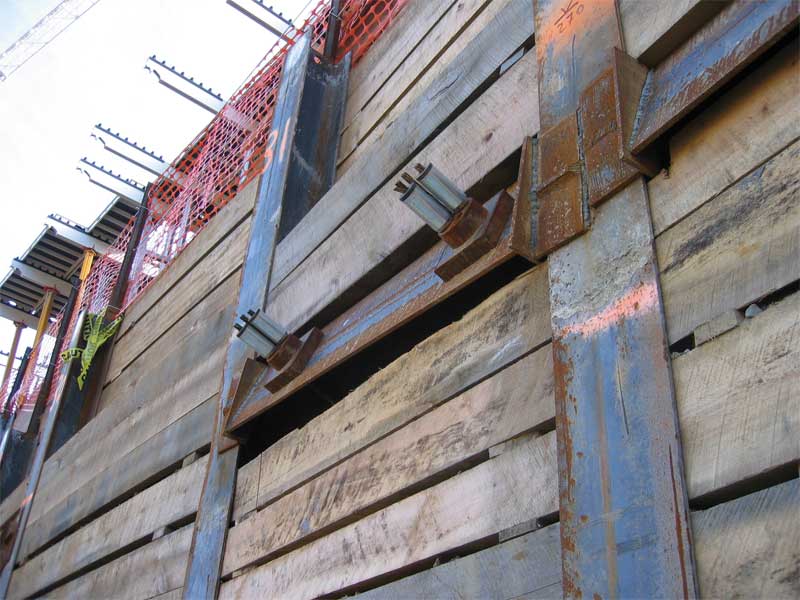 The pre-con meeting may not be limited to the project members and can include:
general contractor;
architect;
owner's representative;
certified inspector;
waterproofing consultant;
waterproofing manufacturer representative; and
subcontractors for waterproofing installation, concrete, and excavating.
One can also include any other subcontractor whose work includes items passing through the waterproofing plane (e.g. mechanical and electrical subcontractors).
During the meeting, the manufacturer's representative should cover the requirements for their warranty such as product installation guidelines and acceptable substrate conditions, as well as establish inspection reporting criteria and corrective action process for any nonconformance items (i.e. any observed deviation from the intent of the construction contract documents).
On paper, the SOE design may appear rather simple, but this is where problems usually begin. The pre-con meeting provides the opportunity to establish acceptable substrate conditions for proper installation of the waterproofing system.
Further, the contractor may not have sufficient time to review and assess every aspect of the contract plans and specification prior to the project bid, so the pre-con meeting presents a perfect opportunity for clarification.
Meeting minutes should record the subjects discussed, decisions made, and the name and signature of all the attendees. The meeting can also be video recorded for later reference.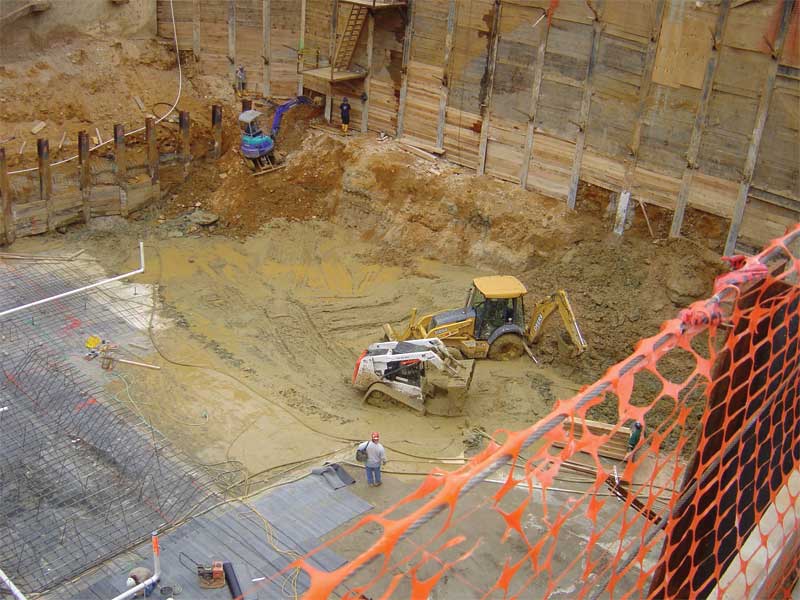 Inspections
To ensure the quality of work during construction, there should be adequate inspection, meaning field verification of design intent. Where full-time inspection is not practical, both the schedule and approximate percentage of part-time inspection should be established. Such an inspection of the installed waterproofing must be conducted prior to any concrete pour or backfill placement. Inspections should be scheduled close to the concreting or backfilling, but still allow enough time for correction activity to repair or replace any damaged or nonconforming waterproofing. Backfill soil compaction requirements vary by waterproofing material type so the inspection process should take into account the manufacturer's guidelines for the specific system being inspected.
The project team should ensure the selected inspection firm is a reputable company with qualified personnel trained by the waterproofing manufacturer. It is also important to make sure the company is hired by the owner and not the contractor or waterproofing subcontractor to eliminate conflict of interest.
If the proposed personnel are to cover more than one area of expertise, it should be determined there will not be a conflict in scheduling the inspections. The duties, responsibilities, and authority of the inspector should be clear and definitive, including the power to stop work as a result of adverse site conditions and nonconformance material installations. The inspector must have a booklet or electronic notepad of all waterproofing details approved for the project to use as a reference in the field for verifying in real-time if the waterproofing materials have been installed as per project requirements.
A good practice is to require field inspectors be trained and certified by the manufacturer. Too many times this author has seen people conducting field inspections of materials they were not specifically trained to inspect, and thereby missing obvious nonconformities in the project.
Inspections conducted by the manufacturer's sales staff should also be avoided or limited because of the perceived bias or conflict of interest with the waterproofing subcontractor.
It is also important to note the independent inspector is not intended to replace or substitute for the "internal" inspections by the contractor and waterproofing subcontractor. It is the duty of those executing the work to systematically check their work is meeting project needs. Subcontractors can be mandated to notify the main contractor—in writing—when waterproofing is damaged during work, so the system can be repaired prior to backfilling.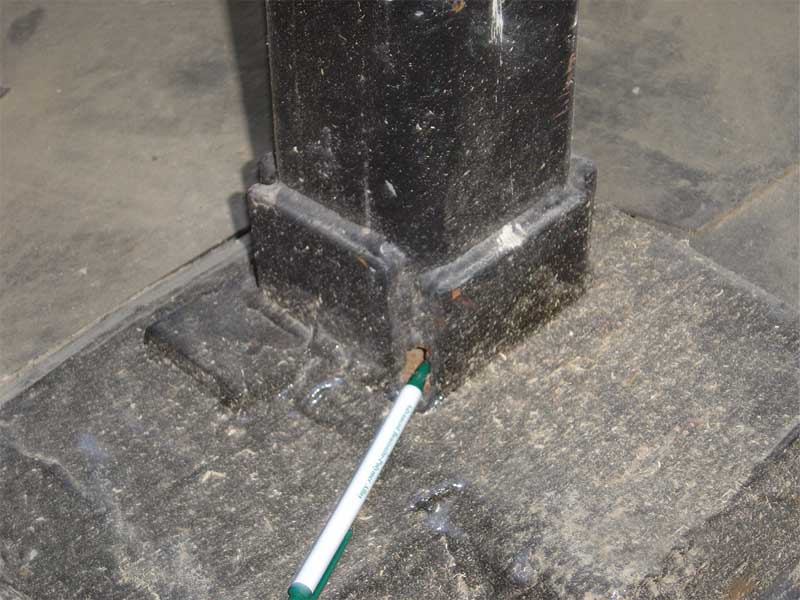 Rarely do manufacturer's typical details include all of the conditions that will be encountered. Job-specific details should have a unique number listed on the document as well as indicate the specific project. One must not depend on subcontractor-prepared shop drawings; pass all job-specific details through a and the consultant, prior to being approved by the designer. If there is no approved detail, an inspection cannot be conducted to verify conformity.
Substrate inspection
Poor substrate preparation can impact the performance of any waterproofing system. Inspection of the substrate ensures suitable dryness, texture, and soundness. With property-line retaining walls, it is extremely important
to define/provide acceptable guidelines, not just state the shoring wall shall be "structurally sound." For example, with soldier pile and lagging, the interior face of  the lagging timbers should be monolithically installed to provide a "flat" surface, and maximum allowable gaps between timbers specified. Requiring all the voids and cavities behind the lagging be filled with compacted soil or cementitious grout is also recommended.
Timber lagging placed on the outside flange of soldier piles should be avoided, especially in hydrostatic conditions. This orientation of shoring wall support typically results in the waterproofing membrane being installed intermittently whereby it is actually installed in separate defined segments terminated between each soldier pile. This creates what basically amounts to a penetration through the membrane extending the depth of the excavation.
Inspection reporting
Inspection reports should be completed and submitted promptly to all applicable parties as established in the pre-con meeting. This is just as important as the onsite inspection itself. Quick distribution of the reports allows all parties to review it while still having the opportunity to take corrective action on any nonconformance. Sometimes inspectors must submit a report internally to a supervisor or an engineer for review before distributing it. This can cause delays if the supervisor does not act promptly.
Some manufacturers have dedicated staff specializing in inspection-report reviews. This staff performs a second review. Typically when this second layer of review is undertaken by a manufacturer, additional nonconformance may be identified. These must be communicated promptly to all applicable parties
for corrective actions. Manufacturers having this additional review process as part of their warranty eligibility are truly engaged in a quality assurance program. Beware of manufacturers stating they offer the same "warranty" but do not have this second review process.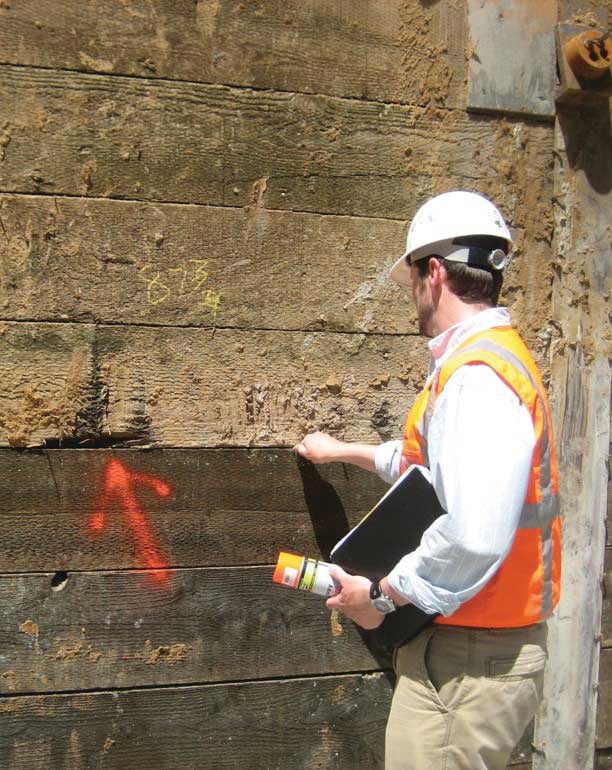 Reports
Inspection reports should provide sufficient data so all involved have enough information to review and act upon as applicable. For example, an inspection report should include at
a minimum:
date and time of inspection;
site map indicating exactly the work area inspected that day or within a specific report;
photos of installation, both overall area and close-up of details, especially of any nonconformity (photo captions accurately describing the issue must accompany the pictures);
nonconformity section listing and describing each one of them as a separate item (this then becomes the corrective action list to verify that any nonconformity has been taken care of prior to concrete pour or backfilling);
weather conditions should be recorded (e.g. temperature and precipitation); and
name and signature of inspector.
A manufacturer may have their own inspection report template for approved inspectors to use, including an inspection app for processing and forwarding the completed report. However, in this author's experience, many consulting
and engineering firms create their own template. No matter the form used (as decided in the pre-con meeting), all of the required information should be recorded in the report.
Nonconformance management
The primary purpose of inspection is to identify, report, and document all observed nonconformance. The report is the tool to communicate the issue requiring action, and also has space for future entry of the time and manner of correction. The inspector is responsible for documenting the nonconformance, verifying corrective action, and then documenting the correction. For this purpose, all inspection reports should be required to have a tracking list for action items.
It should be noted an inspection program can have a distinction between nonconforming work addressed on the spot and items requiring review and address after the inspection. The first is addressed by immediate action, at the time of the inspection, to eliminate an observed nonconformance. These actions typically involve rework or repair conducted and completed during the inspection. Thus, the issue is addressed in full and the item is not recorded as a nonconformance in the report.
Nonconformance items that cannot be addressed in full during the inspection or requiring review prior to corrective action should be recorded in the report, thereby setting in motion corrective actions to resolve the nonconformance.
Compliance of results to the construction documents must be certified by the presence of the inspector's signature, with job title, name, and the date of inspection on the report. If inspection is unsatisfactory, this should be noted, and the process continued.
On completion of a particular corrective action, an inspection document should be filed to provide evidence of compliance with specified requirements. The report and other follow-up documents, if used, should be compiled. This should also be included in the permanent project records.
Conclusion
The establishment of a quality assurance inspection program is extremely important for successful below-grade waterproofing. Material installation and substrate requirements should be clear and verifiable, so all parties in the project can understand the requirements for conformance. Critical to the process is promptly reporting and taking corrective action to resolve any nonconformance.
Stacy Byrd, CDT, is the global technical services director at CETCO, a manufacturer of waterproofing, green roof systems, composite drainage, and waterstops. He has 28 years of technical waterproofing design application and practical field experience with below-grade foundations, plaza-decks, tunnels, and green roofs on commercial, institutional, civic, and government projects around the world. Byrd is an active member with ASTM International Committee D08 on Roofing and Waterproofing. He can be reached at stacy.byrd@mineralstech.com[8].
Endnotes:
[Image]: https://www.constructionspecifier.com/wp-content/uploads/2018/04/bigstock-Civil-Engineer-Inspecting-The-150860423.jpg
[Image]: https://www.constructionspecifier.com/wp-content/uploads/2018/04/irregular-stone-excavation-w-lagging-above-c-up_.jpg
[Image]: https://www.constructionspecifier.com/wp-content/uploads/2018/04/Electronic-Inspection.jpg
[Image]: https://www.constructionspecifier.com/wp-content/uploads/2018/04/Irregular-Lagging-Wall-Substrate.jpg
[Image]: https://www.constructionspecifier.com/wp-content/uploads/2018/04/WPing-Membrane-Covered-with-MUD.jpg
[Image]: https://www.constructionspecifier.com/wp-content/uploads/2018/04/HLM5000-Install-around-metal-with-hole-close-up.jpg
[Image]: https://www.constructionspecifier.com/wp-content/uploads/2018/04/Picture1-PPT-Substrate-Inspection.jpg
stacy.byrd@mineralstech.com: mailto:stacy.byrd@mineralstech.com
Source URL: https://www.constructionspecifier.com/quality-assurance-of-waterproofing/
---