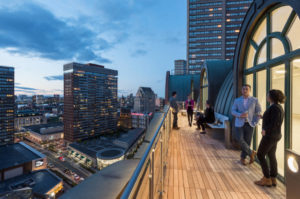 A modernized look and improved daylighting are a few of the benefits a Boston office building is enjoying thanks to a strategic redesign project. The dated architectural style of 116 Huntington Avenue has been reimagined by architecture and interiors firm Dyer Brown to favor a more clean-cut aesthetic.
The 15-story office building measures 25,177 m2 (271,000 sf). Renovations to its two-floor penthouse make even its highest point eye-catching, with a large oculus window both drawing attention and introducing natural light.
"The oculus window also provides spectacular views of the city and the Charles River," said Deniz Ferendeci, Dyer Brown's director of building services. "This distinctive element, along with a potential dedicated elevator bank and the two private terraces, helps to create a vibrant environment for prospective penthouse tenants in a breathtaking, bespoke office environment."
The terraces comprise another key component of the penthouse renovation. Totaling more than 139 m2 (1500 sf), these outdoor roof areas are available for private use by penthouse occupants.
The top of the building is not the only place views, daylighting, and aesthetics have been considered. A frameless structural glass façade has been added to its lobby as well, measuring 7 x 7 m (25 x 25 ft) and complementing the visual appeal of bronze panels. The lobby area's arched ceiling has also been replaced with a raised ceiling with new finishes.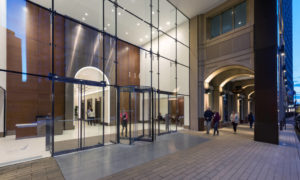 New finishes have also been applied in other areas of the building, as has new flooring in elevators, lobbies, corridors, restrooms, and other common areas. Further, an exterior lighting system has been added to the first two floors.
Redgate was the project manager for 116 Huntington Avenue, collaborating with Shawmut Design and Construction.
"Working on 116 Huntington has been exciting and rewarding, and we're ready to take on whatever is needed to help the client meet their goals," said Ferendeci.
Dyer Brown was also responsible for the design of Criteo Boston's 4645-m2 (50,000-sf) offices and the new lobby of 10 Post Office Square.