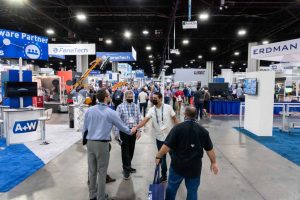 GlassBuild America expo will move to Dallas, Texas, and Orlando, Florida, in 2024 and 2025 respectively, due to renovation, and frequent calls from stakeholders to try out new locations capable of hosting massive-scale industry expos.
GlassBuild America is the largest annual event for the entire glass, window, and door industries in the Americas. Produced by the National Glass Association (NGA), this event is where buyers and sellers meet and learn how to solve their most pressing challenges.
The association holds the expo at a regular rotation between Atlanta, Georgia and Las Vegas, Nevada. GlassBuild was to be held in Las Vegas in 2024, but Las Vegas Convention Center's partial renovation led to event organizers selecting Dallas as an alternative location.
Dallas can accommodate GlassBuild's size and scope and has excellent facilities along with plentiful hotel options. Plus, the Dallas-Fort Worth airport is easily accessible for U.S. and international travelers. Overall, Dallas will be more cost effective for the Association, exhibitors, and attendees.
While the 2025 expo was already scheduled to be held in Atlanta, NGA decided to listen to the frequent exhibitor and attendee requests for a new location with a modern convention centre, able to comfortably house large-scale trade shows. Orange County Convention Center in Orlando seemed an impressive option, with multiple hotels within walking distance. Also, Orlando's airport welcomes flights from across the U.S. and abroad, and Orlando is very accessible from the Port of Miami for international shipments.
"NGA is very excited to share this announcement that GlassBuild America is moving to new cities in 2024 and 2025," said NGA events director Molly Grenn in a memo to GlassBuild exhibitors. "We hope to return to Las Vegas in 2026 and Atlanta in 2027."
In 2024, GlassBuild will be held Monday, September 30 through Wednesday, October 2 in Dallas, Texas at the Kay Bailey Hutchison Convention Center.
In 2025, GlassBuild will be held Tuesday, November 4 through Thursday, November 6 in Orlando, Florida at the Orange County Convention Center.