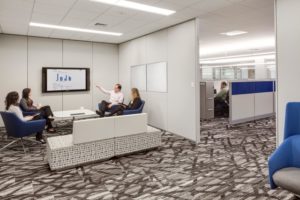 Earlier this summer, Fresenius Medical Care North America completed revamping some of its Boston-area office facilities. Covering approximately 9290-m2 (100,000-sf), the new workplaces represent a major step in reaffirming the global healthcare services provider's corporate culture, as well as its ongoing organizational transformation.
Growth and acquisitions forced Fresenius to reassess its existing corporate office space—representing hundreds of thousands of square feet—and task Dyer Brown, an architect and interior firm, with reprogramming the entire footprint two years ago. The solutions included reorganizing many areas to consolidate fragmented departments and to recapture underutilized space.
Among the newly occupied workplaces is a fully renovated 2787-m2 (30,000-sf) floor of one of two office buildings Fresenius occupies in Lexington, Massachusetts.
"Our goal is to help them align departments and use space more effectively, so they don't expand their real estate needlessly. By doing so, we create an optimally productive work environment for the client's entire team, while also weaving spaces together to boost collaboration and innovation," said Sara Ross, director of corporate services at Dyer Brown.
Implemented strategies include reducing workstation sizes, reassigning staff to smaller, efficient offices, and repurposing reclaimed square footage as collaboration and amenity spaces. The design team is also refreshing and updating the current Fresenius corporate workplace look with new finishes and materials, lending it a more contemporary overall aesthetic.
The ongoing project has generated positive response from employees. The new IT Clinic—a 185-m2 (2,000-sf) walk-up service desk for employees—represents a radical transformation of the way Fresenius employees resolve their technology issues. This was set up at one of the three buildings the healthcare company occupies in Waltham, Massachusetts. Staff take their problems and questions directly to the IT Clinic—located in an area with heavy foot traffic—instead of calling a technician who then visits the workstation with the malfunctioning equipment. The result is a new mode of addressing technology issues that elevates the visibility of the IT department while creating an activated space for informal interaction, collaboration, and problem-solving.
The primary benefit of the now-complete gut renovation of 40 Hartwell Avenue in Lexington is the bolstering of interaction and collaboration among the staff. The new workplace design achieves these aims by refreshing the workspaces while reorganizing them into 'neighborhoods' with three types of conveniently located collaboration spaces—impromptu, AV, and whiteboard. The impromptu neighborhoods are set up for spontaneous conversations, AV areas support meetings needing technology for presentations, and the whiteboard settings are ideal for team-based problem-solving. These spaces are all organized around a central hub with banquette seating, café tables, and a bar-height counter, providing additional group meeting space.