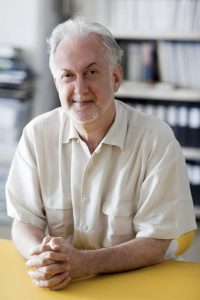 Renowned architect, urbanist, and critic Michael Sorkin passed away on March 26 in Manhattan at age 71 due to complications resulting from COVID-19.
Sorkin, principal and founder of Michael Sorkin Studios and president of the nonprofit urban research group Terreform, is being remembered for a career of accomplishments and dedication to architectural education for social change.
A visiting critic at the Cornell University College of Architecture, Art, and Planning (Cornell AAP) since the late 1990s, he also gave the keynote address for the 2009 Case Studies in Urban Development Symposium and the fall 2014 Clarence Stein lecture How Green Was My City. Sorkin was highly regarded for his teaching and critical perspective, and visited AAP as a guest critic during architecture final reviews in spring 2016, alongside Lily Chi, associate professor in architecture and M.S. Advanced Architectural Design (AAD) program coordinator.
"The loss of this passionate, imaginative, original, and provoking voice is truly difficult to accept for all of us who learn and teach," said Chi, who was actively planning a studio module Sorkin would teach in the summer semester.
Sorkin held degrees from the University of Chicago, Massachusetts Institute of Technology (MIT), and Columbia University. He was professor and director of the Institute for Urbanism at the Academy of Fine Arts in Vienna (1993 to 2000), distinguished professor and director of the urban design program at the Bernard and Anne Spitzer School of Architecture at the City College of New York City, and a visiting professor at The Cooper Union, Yale School of Architecture, Harvard GSD, Taubman College of Architecture and Urban Planning, among many others in the United States and abroad.
In addition to his practice and teaching, Sorkin was well-known as the architecture critic for the Village Voice in the 1980s, editor-in-chief of Urban Research (UR), a contributor to magazines and journals, and the author of many books. In 2019, the American Institute of Architects (AIA) awarded Sorkin the 2019 Collaborative Achievement Award in recognition of more than 40 years of helping to diversify the design field, and fieldwork in Johannesburg, Havana, and post-Katrina New Orleans.