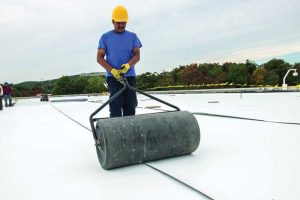 Different uses and building occupancy types determine the specific wind map in the building code and/or ASCE 7 to use for wind load selection criteria. For example, hospitals have a higher location-based wind speed than an agricultural building. Selecting a higher-than-code wind speed effectively places greater importance on a building.
The type of building defines whether or not it would be pressurized during a high-wind event. Buildings are designed to be enclosed, partially enclosed, partially open, or open. Many roof systems are designed as enclosed buildings, which anticipate little internal pressurization. This is appropriate for new construction where the windows, doors, and large openings are designed to resist high winds.
Conversely, the openings in existing building enclosures may not be rated for high-wind capacity. Determining a roof's wind loads for partially enclosed buildings should anticipate that windows and doors will be opened (for instance, a loading dock door) or displaced during a wind event. Selecting partially enclosed will result in higher wind loads and a roof system with higher-wind-capacity.
Edge metal and perimeter restraints
Decades of post-high-wind-event investigations by the Roofing Industry Committee on Weather Issues (RICOWI) and others show that most wind-related damage begins at the perimeters and corners of roofs. Enhancing edge metal details with thicker gauge metal, higher fastener density, and proper nailer securement can increase the wind resistance of a roof's perimeter.
For example, using 22-gauge metal instead of a 24-gauge one, and installing fasteners 200 mm (8 in.) apart rather than 305 mm (12-in.) apart can provide cost-effective protection for long-term performance. Using edge metal components that are tested and rated per the American National Standards Institute/Single-ply Roofing Industry (ANSI/SPRI) ES-1, Test Standard for Edge Systems Used with Low Slope Roofing Systems, will meet building code requirements and help designers select edge metal with appropriate capacity.
A peel-restraint bar can be installed in addition to a well-designed perimeter edge or parapet to improve wind resistance. The bar can be a continuous piece of metal (e.g. a termination bar) located ½ to 1 m (2 to 3 ft) from a building's perimeter. The bar is installed above the membrane, fastened directly to the structure, and then covered with a membrane to keep it weathertight. Similarly, edge restraint can be an effective preventative measure for new construction and can be implemented on existing roofs as well.
Impact resistance
Impact resistance can mean resistance against impacts caused by hail, debris, or displaced rooftop equipment in a weather event. Improving impact resistance most often requires a systemic approach. For example, testing by the author's colleagues, Sarang Bhawalkar, PhD, Tammy Yang, PhD, and N.J. Thomas J. Taylor, PhD, showed an adhered fleece-back membrane over an adhered high-density polyisocyanurate (ISO) cover board, over mechanically attached rigid ISO insulation provided a higher level of impact-resistance when these materials are used in a combined roof system.
The tests used 50-mm (2-in.) diameter ice-balls and followed a similar procedure to that of FM 4473, Specification Test Method for Impact Resistance of Rigid Roofing Materials by Impacting with Freezer Ice Balls. The test did not consider different types of reinforcement. The testing had a number of more generalized conclusions, such as:
the use of a cover board improves impact resistance;
the use of adhered membranes and adhered cover boards instead of fasteners and plates located directly under the membrane improves impact resistance;
consider the use of thicker membranes;
consider the use of fleeceback membranes; and
consider the use of a long-lasting membrane.
Impact resistance is critical throughout the entire service life of the roof system, especially when considering the resilience of the roof. The tests used in the Bhawalkar et al study and throughout the roofing industry employ new materials when determining impact resistance of systems. However, a more recent study that was performed using aged thermoplastic polyolefin (TPO) membranes showed different roof designs have varying resistance to impact regardless of age.
Therefore, an appropriate cover board is essential for a resilient roof system in hail-prone regions. Using plywood and 2-mm (80-mil) thick adhered fleeceback single-ply membrane in place of a traditional cover board is often necessary to achieve the VSH rating that is required for buildings insured by FM Global in much of central United States. Where large hail is anticipated, pavers above the roof membrane can protect the roof system if the structural capacity is adequate to carry the additional weight.