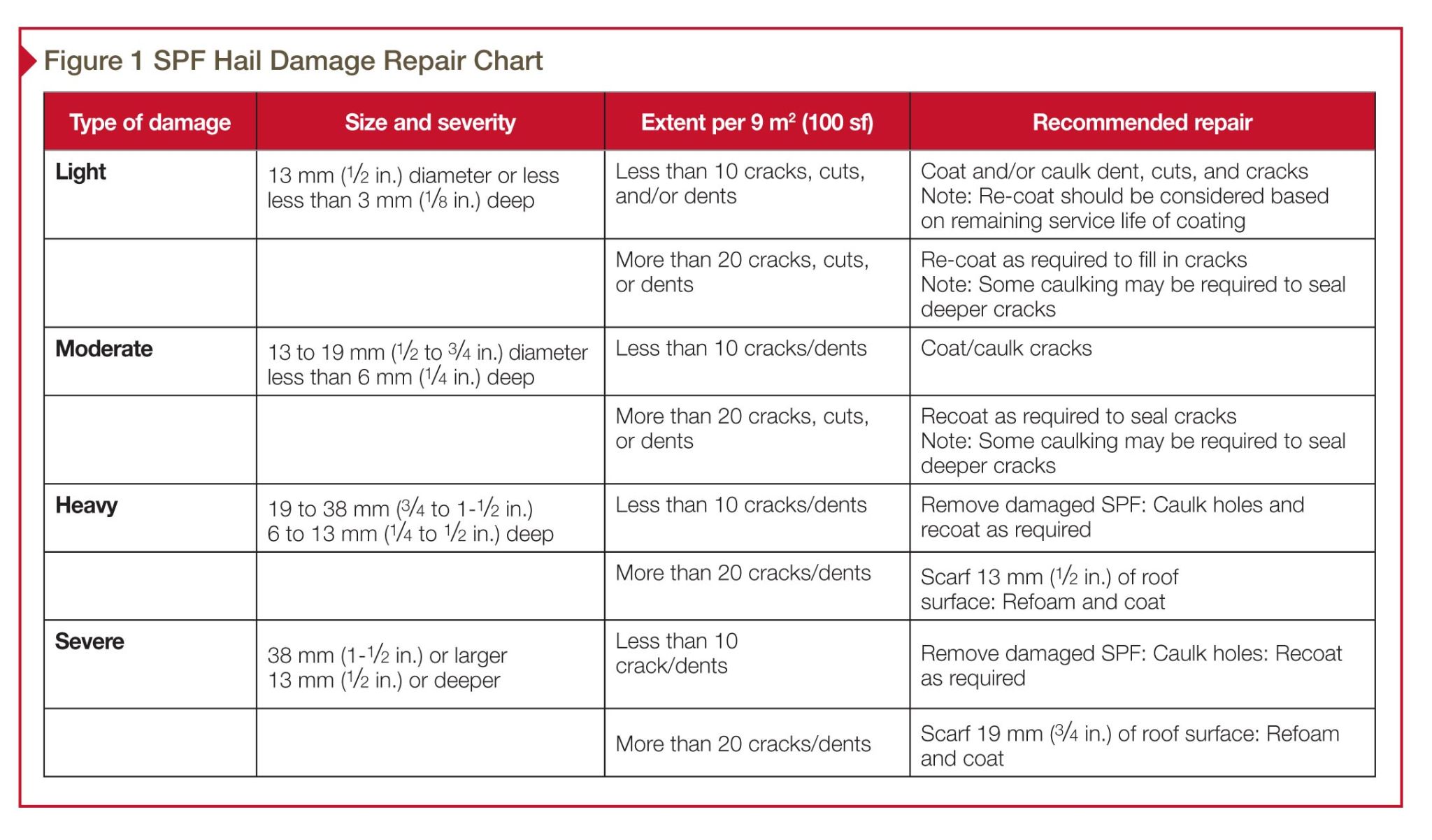 Repair recommendations
After obtaining information from the roof inspection, recommendations can be developed specific to the damage sustained. As discussed, repairs will vary depending on the severity and the frequency of the damage.
Figure 1, obtained from SPFA's technical document AY 139, can help classify the mechanical damage and provide repair recommendations. Other factors affecting repair recommendations include age and condition of SPF and coating, service life expected of the roof system, cost of repair, and amount covered by insurance.
Climactic factors
The recommendations listed in Figure 1 are not specific to regions or varying climates. While the recommendations remain consistent in varying climates, consequences of untreated wind and hail damage to SPF roofs vary in different climates.
Hot arid climates
Assemblies in Phoenix or Las Vegas are more forgiving regarding light to moderate hail damage. However, cracks in the coating can allow UV degradation over time. This degradation may take months to occur, but typically does not affect the roof's water-resistant characteristics since the low humidity and exceptional drying characteristics of the climate do not allow the SPF to saturate over time.
The main concern of light to moderate hail damage in this climate is to maintain the coating's capacity for re-coat/renewal. Eventually, UV degradation of the SPF under the coating will affect the adhesion of the coating to the foam. It is recommended the damaged areas be removed and caulked or refoamed. It should be noted there are cases of lightly hail-damaged roofs in these areas being successfully recoated years later without any specific hail damage repairs occurring. Still, it is prudent to make hail damage repairs as soon as practically possible.
Hot humid climates
The climates found in locations such as South Texas and Florida have more complex factors affecting hail-damaged SPF roofs. High temperatures tend to dry out the moisture that has seeped into the cracks and crushed foam cells very quickly. On the other hand, the high humidity creates a higher potential for SPF saturation particularly during cooler times of the year. Lower-perm-rated coatings/coverings also increase the potential for moisture saturation of the hail-damaged roofs because they do not allow drying to occur as efficiently as higher perm-rated products. As in the hot arid climates, UV degradation that can affect coating adhesion typically occurs within a few months.
Cool climates
In cooler temperatures, the greater concern of hail-damaged roofs is moisture saturating into the SPF. There may be long periods where drying conditions do not occur. In many areas snow may stay on the roof for extended periods increasing the possibility of moisture saturation. It is important to repair crushed foam and coating cracks as soon as possible to prevent moisture saturation of the damaged areas.
Conclusion
Sprayed polyurethane foam roofing systems have unique characteristics that allow the repair rather than the replacement of the system after hail and wind damage. These damage repairs to SPF roofing systems vary according to size, severity, and the length of time after the initial defacing. It is important to inspect and evaluate the damage in order to make the correct repair recommendations. However, with the correct repair, SPF roofing systems can perform for many years after a significant wind or hailstorm.
Mason Knowles is president of Mason Knowles Consulting LLC, specializing in providing educational/training, troubleshooting problem applications, technical services and articles, and presentations specific for the sprayed polyurethane foam (SPF) industry. He has 42 years of experience in the sprayfoam industry as a contractor, manufacturer, and trade association executive. Knowles chairs the ASTM Subcommittee on Sprayfoam Roofing and the ASTM Task Group responsible for ASTM C 1029, Spray-applied Polyurethane Foam Specification. He is a Sprayed Polyurethane Foam Association (SPFA)-accredited building and roofing inspector and an instructor for SPFA courses for applicators and inspectors. Knowles is a member of the Roofing Industry Committee on Weather Issues' (RICOWI's) Hurricane and Hail Investigation Teams. He can be contacted at masonknowles@aol.com.