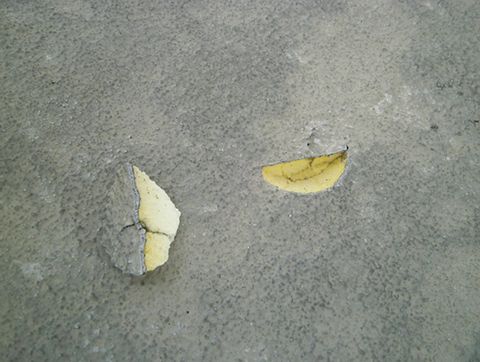 It should be noted most hailstorms are associated with large temperature swings, thereby increasing the thermal shock expansion and contraction within a metal roof system. In other words, even if the metal is not structurally damaged, there can be leaks from movement tears and seam breaks.
With the exception of metal roofing, even light to moderate hail damage to roofing systems such as single ply-membranes, shingles, and BURs can lead to roof leaks. Consequently, tear-off and replacement is the most common recommendation by roof consultants for hail-damaged roofs in category two and above.
Increasing the hail impact resistance of the typical SPF roof
While the basic SPF roof system has good hail impact resistance, additional design elements can be used to significantly increase its hail resistance. The following strategies can be used to develop an SPF roof that can be resistant to cracks and dents from fairly large hail in the 38 to 50-mm (11/2 to 2-in.) category.
Use higher-density foam
SPF roofing foam ranges in density from 40 to 48 kg/m3 (21/2 to 3 lb/cf). As the density increases, so does the compressive strength of the foam and its resistance to impact. To provide the best hail impact protection, one should use an SPF that has a core density greater than 48 kg/m3 and under 64 kg/m3 (3 lb/cf [under 4 lb/cf]) and a compressive strength of 413 kPa (60 psi) or more.
Add a third layer of coating
Most SPF roofing systems consist of two layers of 254 to 381 µm (10 to 15 mils) of coating. Adding another layer (thereby increasing the thickness) significantly amplifies its tensile strength, providing greater hail impact resistance.
Combine tensile strength with high flexibility
Impact resistance of a coating system is a combination of both tensile strength and flexibility. For example, a coating system with 2756-kPa (400-psi) tensile strength and 400 percent elongation is less likely to crack from hail impact than a coating system with 10,335 kPa (1500 psi) tensile strength and 75 percent elongation. A combination of high tensile strength and high long-term flexibility provides the greatest protection.
Top coating system with granules or crushed aggregate
Field observations show adding granules or crushed aggregate helps reduce hail impact damage more than just coating alone.
Weathering characteristic and field history of the coating
It does little good to use a coating that starts with great tensile strength and flexibility, but loses its flexibility after a few years. It is important to use a coating that has demonstrated good impact resistance in the field over time, particularly against moderate to heavy hail.
Inspection procedures
The first step in making an evaluation and repair recommendation of a damaged SPF roofing system begins with an inspection including visual observations, and destructive sampling and testing. The following inspection procedures that are listed in the Spray Polyurethane Foam Alliance's (SPFA's) technical document AY 122 of an existing roofing system can be helpful.
Visual inspection
Some visual cues can assist in determining whether the roof has been damaged. While inspecting, one should pay special attention to:
blisters or delaminated areas;
the condition of the roofing system at all flashing and termination points;
splits or cracks in the SPF;
damage from impact;
pinholes in the SPF or coating;
exposed SPF and areas of eroded coating;
areas of ponded water; and
obvious substrate or structural damage.
Physical inspection
The following steps are essential to a physical inspection:
perform a non-destructive moisture survey (follow-up suspected moisture-laden areas with a moisture probe or core samples);
probe to determine SPF thickness;
take slit samples of the existing coating (at least 1 per 230 m2 [2500 sf]);
take SPF samples (at least 1 per 929 m2 [10,000 sf]); and
take random slit samples of damaged areas.
Analyze inspection
Core and slit samples should be examined for the following characteristics:
UV degradation;
presence of moisture saturation;
adhesion of SPF to substrate;
adhesion of basecoat to SPF;
adhesion of topcoat to base coats;
type and condition of protective coating;
thickness of protective coating;
condition of SPF; and
depth of damaged SPF.
Roof sketch
Indicate the following on a roof sketch:
location of core and slit sample;
type and location of any coating deficiencies;
SPF or coating blisters;
mechanical damage;
poor drainage;
repairs required for foamstops, parapet walls, gutters, flashing, scuppers, edge terminations, expansion joints, and other perimeter items;
repairs required to soil and vent pipes, drains, roof hatches, equipment curbs, or supports, guy-wires, hot stacks, skylights, mechanical units, walkways, sleeper, pitch-pans, and other penetrations;
water-saturated sub-roofs, insulation, or SPF;
sub-roof damage or deterioration; and
areas of special consideration.