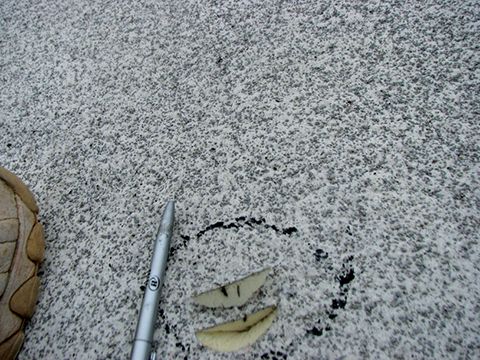 BUR
According to RICOWI, aggregate-covered BUR assemblies appeared to perform well in the Dallas/Ft. Worth storm:
Five of the six roofs inspected were impacted by hail 57 mm (2.25 in.) or larger and one roof was impacted with 44 mm (1.75 in.) hail. All were rated with damage levels one or two, indicating little observable damage and general good performance.
In the Oklahoma investigation, 13 BUR roofs were investigated. Some of the aggregate-covered BURs performed well, enduring "hail impacts of 38 to 50 mm (1.5 to 2 in.) without apparent damage in the field of the roof." However, damage was found in the field (and flashings) of five roofs with hail size ranging from 25 to 63 mm (1 to 2.5 in.) in diameter.
Single-ply membrane
There are many types of single-ply membranes that are divided into two main types; thermoplastic and thermoset.
Ethylene propylene diene monomer (EPDM) is the most common thermoset single-ply membrane. It has a very high tensile strength and a high resistance to punctures. EPDM can either be installed loose-laid with ballast (e.g. crushed aggregate or river rock) or fully adhered with a variety of adhesives.
However, the Whole Building Design Guide (WBDG) on Roofing Systems published by National Institute of Building Sciences (NIBS) in 2015, cautioned:
Generally loose-laid, ballasted roofing systems are not recommended, or at least discouraged, for three reasons:
a leak is very difficult to locate because the water runs freely in numerous directions and for longer distances under the loose-laid membrane;

the membranes tend to pull at their perimeter ties, raising and stretching the membrane around the parapet copings, and base flashing areas where the membrane then thins and punctures easily; and

the ballast can puncture the roof membrane.
It stands to reason a hail event would increase the potential for punctures with the ballasted system under these circumstances, and a fully adhered EPDM membrane would have more hail resistance than the ballasted system. While the ballast itself may help absorb impact in the field of the roof, the stretched and exposed membrane at the parapets, copings, and penetrations would be more at risk.
Thermoplastic systems
Polyvinyl chloride (PVC) roofing membranes are among the oldest single plies. These systems have undergone significant formula changes over the last 30 years to minimize a problem with the membranes becoming brittle over time. As reported in the WBDG in 2015:
PVC is a naturally brittle material and must be modified with plasticizers to be suitable for roofing. Some early formulations of PVC suffered from plasticizer leaching out over time and experienced catastrophic failures. 
One should verify the PVC membrane's stability by selecting those that have been manufactured for many years. PVC providers have added reinforcement to the systems in the '90s, but still had problems with the systems becoming brittle over time. A 2000 study by Frank Foley, Jim Koontz and Joseph Vilaitis, "Aging and Hail Research of PVC Membranes" sampled and tested 87 membranes of various ages for plasticizer migration and hail simulation testing. Their conclusions were as follows:
The older a PVC membrane, the more vulnerable the membrane is to impact damage. While this is true of all roof membranes eroding or becoming more rigid with exposed PVC membranes, this vulnerability is a particular concern. Not all PVC membranes are of the same quality. The data on plasticizer loss and impact resistance demonstrates one of the four manufacturers provides a superior product to the U.S. low-slope roofing market.
TPO membranes
Thermoplastic polyolefin (TPO) membranes were introduced as an alternative to the PVC membranes. They do not require plasticizers for flexibility and were deemed an improvement. However, it is important to keep in mind TPO membranes are fairly new to the market, so long-term performance data is unavailable.
Metal roof systems
The Oklahoma study reported that the effects of hail on metal roofs was mostly cosmetic, with
a few cases of distorted seams or spalled granule surface, but only when the hailstone size was extremely large.
The Dallas/Ft. Worth RICOWI investigation report concluded:
Almost no damage was found in areas where the maximum hailstone size was less than 25 mm (1 in.) in diameter with the exception of badly deteriorated and unsupported material. When maximum hailstone size was between 25 and 50 mm (1 and 2 in.) in diameter, the level of damage ranged from none to considerable depending on the material, age, condition, roof slope and support conditions. When maximum hailstone size was greater than 50 mm (2 in.) in diameter, most roofing material sustained damage or denting of metal.
However, the WBDG reports:
One should be cautious about using continuous sheet metal in a flat roof situation. Sheet metal is prone to wider, more extreme temperature swings because of its dense nature as a material, especially in the sunlight on a roof. This will cause significant expansion/contraction movements in the sheet metal surface. The movements themselves are difficult to manage, but combined with necessary roof penetrations for vents, drains, curbs, and wall corners, which bind the inevitable movements, tears or seam breaks in the sheet metal are highly likely. It is more difficult to achieve a reliable, long-lasting watertight system on a low-slope roof with metal than it is with the other low-slope membrane materials.