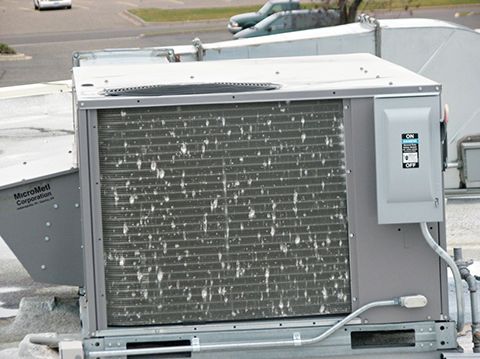 Designing specifications
There are some key factors and considerations when designing an SPF roofing system that determine whether the roof will resist damage.
First, the physical characteristics of the SPF roofing system must be considered. The most common system begins with a layer of at least 25 mm (1 in.)—and more often 50 to 75 mm (2 to 3 in.)—of a high-density sprayed polyurethane foam covered with a minimum of 635 to 762 µm (25 to 30 mils) of a protective coating of either acrylic, silicone, or polyurethane.
SPF used in roofing ranges in density from 40 to 48 kg/m3 (2.5 to 3.2 lb/cf) with compressive strength from 275 to 413 kPa (40 to 60 psi). The typical polyisocyanurate (polyiso) or expanded polystyrene (EPS) roof insulation averages 137 kPa (20 psi), with the highest compressive strength available at 172 kPa (25 psi). The much higher compressive strength of the SPF, combined with the thousands of tiny cells, tends to act as a shock absorber against impact. The top of the foam can get crushed, but the material below remains intact.
SPF's high compressive strength also provides a sturdier substrate than other roof insulations for the coatings applied to it. The coatings used over the foam add additional strength to the system, depending on their tensile strength, flexibility, and thickness. These systems installed over softer substrates are more susceptible to hail than those installed to stiffer substrates, which offer additional resistance to hail.
In single-ply roof systems, hail can cause major, widespread damage to the insulation underlying the roofing membrane. When this insulation is crushed, dented, or separated from the facer, it can cause the membrane to become unsupported—leading to a decrease in puncture resistance and the possibility of seams opening up.
The basic SPF roofing system can usually withstand hail impacts of 13- to 25-mm (1/2- to 1-in.) hailstones leaving only a small depression 3 to 6 mm (1/4 to 1/8 in.) deep in the foam and no cracks in the coating. More than a dozen SPF roofing systems passed Factory Mutual Global's Class I Roofing Covering severe hail test using this basic system.
As hailstones increase in size, the depressions in the SPF get larger, and cracks in the coating become more frequent. However, even severe hail damage can usually be repaired, as long as repairs are performed within a reasonable period. This is an important factor since most other roofing systems require tear-off and replacement.
Repairing SPF roofs
With many roofing systems, the exterior membrane is the waterproofing or water-shedding medium. When hail or other missiles impact, crack, or bruise a roof system such as single ply, shingles, or built-up roof (BUR), leaks are apt to follow. However, the damage to SPF roofing systems is typically a cracked coating and indentation to the foam itself.
The damage typically occurs in the top 3 to 6 mm (1/8 to 3/4 in.) of the foam, depending on the size of the hail and the physical properties of the SPF and coating. Since the foam below the dent is closed cell, it continues to provide water resistance so leaks do not occur. This allows a SPF roof to be repaired in the areas of damage rather than having to remove and replace the whole system.
As reported in the Roofing Industry Committee on Weather Issues (RICOWI) hailstorm Investigations in Oklahoma City in 2004:
Immediate leaks into the buildings would not be expected from the hail-caused fractures in the coating as the foam is closed-cell and would not allow liquid water to pass through.
Five SPF roofs were inspected with three of the roofs (all with hail reported ranging in size from over 25 to 50 mm [1 to 2 in.]) having fractures in the coating. The two undamaged roofs were struck by hail from 12.5 to 25 mm (1/2 to 1 in.) in diameter.
Other roofing systems and their hail resistance
By evaluating results of hail investigations over the last 30 years, it is apparent some roofing systems perform better than others.
Asphalt shingles
Asphalt-shingled roofs have shown a predilection of damage after hailstorms. For example, in the RICOWI hail investigations of the Dallas/Ft Worth, Texas storm of 2011, with a total of 63 asphalt and modified-bitumen (mod-bit) shingle roofs inspected:
40 showed some form of damage (categories two or higher) and 28 having moderate (category three or higher) or greater damage reported. Maximum hail sizes on the asphalt shingle roofs inspected ranged from 6 to 82 mm (0.25 to 3.25 in.) in diameter…. Roofs with damage category two or higher had been struck with hailstones 25 mm (1 in.) or larger. Of the 25 asphalt shingle roofs rated with damage categories three or higher (moderate to severe) 92 percent had been struck with hailstones 32 mm (1.25 in.) diameter or larger. Shingles judged to be 9 years and newer had an average damage rating of 2.1 while the shingles older than 9 years had an average damage rating 4.2.