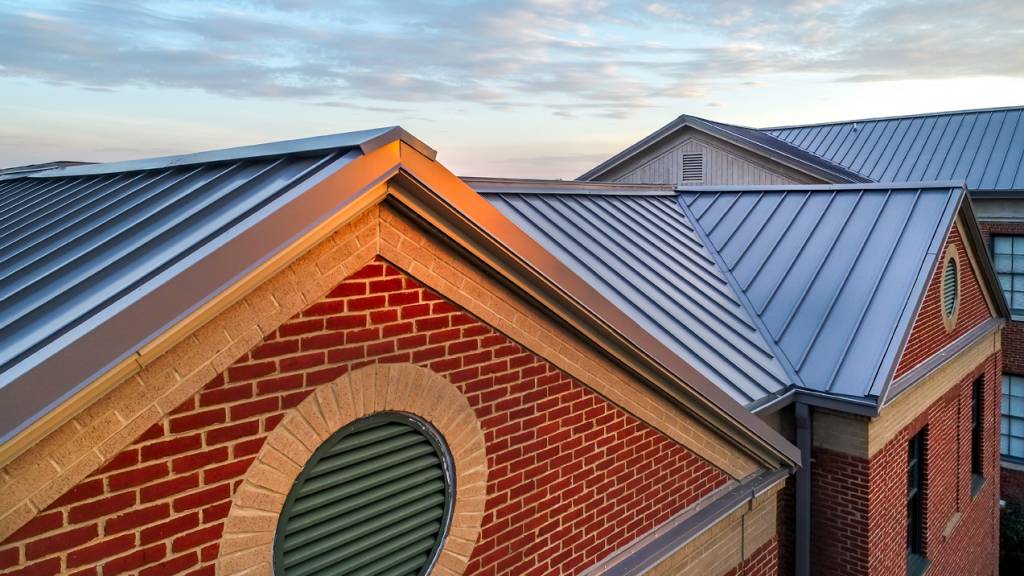 By 2017, Alexander II Magnet School in Macon, Georgia, had undergone significant additions and modifications. Housed in a building originally constructed in 1902, the Bibb County School District had encountered multiple problems with the facility, primarily stemming from the aging structure's failing asphalt roof.
When examined by professionals from Edifice Consulting, which is based in Byron, Georgia, several key problems associated with the school's roof were identified.
"During an assessment, we discovered the asphalt shingles were installed with no ventilation and heavy insulation," said Jody Usry, Edifice Consulting. "It was designed for metal and, with no ventilation, the shingles were burning up. Plus, there was so much expansion and contraction that the nails were backing out in spots."
To solve the roofing challenge, the team decided to employ a method referred to as "above sheathing ventilation" (ASV), which would allow them to retrofit the asphalt roof with metal, symmetrical standing seam panels without the need for an underlayment or tear-off. ASV incorporates a free flowing airspace between the existing substrate and the new panels, which can reduce heat transfer by 30 to 45 percent, according to research published by Tennessee's Oak Ridge National Laboratory. The added airspace allows for lower cooling costs throughout the summer and, in colder climates, reduces the risk of ice buildup during the winter.
Designed specifically for retrofit applications, 2555 m2 (27,500 sf) of metal panels were fitted to the asphalt by way of a clip system. The clips were secured to the existing roof with two fasteners and created 19 mm (0.75 in.) of airspace between the existing and new roof.
Additionally, the panels, which are coated with polyvinylidene fluoride (PVDF), are expected to aid in the long-term maintenance of the facility, as they can be individually removed and replaced if damaged.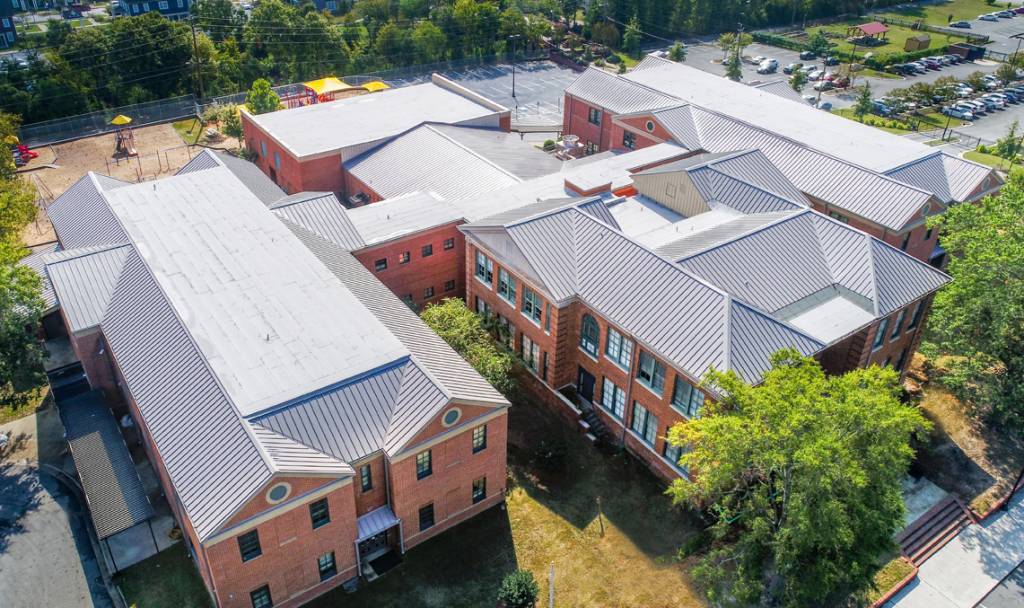 "There are a lot of trees around the school and the roof is subject to falling branches or trees," said Usry. "Installing a symmetrical panel allows for the removal and replacement of individual panels that sustain any kind of damage, including falling branches. Obviously, it is advantageous to the school to not have to tear off an entire roof for a couple of damaged panels."
The school's flat roofing areas, which had internal gutters, were recovered with new decking and sloped, allowing for water to flow to an external gutter.
Managing logistics was instrumental to the success of the project. Construction started in January 2017 and completed the following July, which meant classes were in session for most of the process. The safety of students and faculty was a priority and, with eaves 7.6 to 9.1 m (25 to 30 ft) high, the construction crew from Macon-based Pittman Waller Roofing required the use of two scissor lifts, a manlift, and two boom trucks.
"We made sure everything was safe," said John Pearson, president of Pittman Waller. "We had barricades along the eaves and everyone was wearing personal fall protection. The students and teachers were really good about avoiding areas where we were working, so it went smoothly."