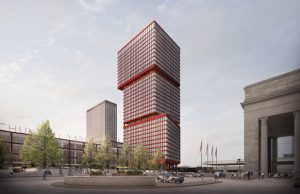 Brandywine Realty Trust has unveiled the architectural designs for the first two ground-up, mixed-use towers in Schuylkill Yards, a $3.5-billion neighborhood taking shape in University City, Philadelphia.
As master developer of the 6-ha (14-acre) integrated neighborhood, Brandywine Realty Trust enlisted the expertise of global architecture firm Practice for Architecture and Urbanism (PAU) for the towers.
When designing the towers, PAU was inspired by a convergence of materials and textures, such as the uniform partitioned windows of the old Pennsylvania Railroad railcars, and the distinct red sandstone, brick, and terra-cotta of the landmark Fisher Fine Arts Library. The towers feature floor-to-ceiling glazed windows framed by painted aluminum. Standing at more than 110 m (360 ft), the west tower's exterior façade features neutral tones, while the east one's bold red palette adds a pop of color to the Philadelphia skyline, resonating with the traditional brick tones of the city.
The east tower adopts strategic massing principles to create a visually appealing building that maximizes the available footprint, while mitigating wind. The design has also provided the opportunity to add accessible greenspaces and improve site lines.
The 156-m (512-ft) east tower is designed to achieve the Leadership in Energy and Environmental Design (LEED) Silver certification.
Both towers will be elevated atop a foundation of fluted pedestals, forming a series of archways, and a gateway to the towers' office and residential lobbies and retail offerings.
"As we continue to make our vision for Schuylkill Yards a reality, a set of guiding principles has remained at the forefront of our design approach: be courageous, creative and bold. Act with integrity for the surrounding community. Prioritize people by bringing beauty and delight to the ground plane. Create connection points for people and their communities to thrive," said Jerry Sweeney, CEO of Brandywine Realty Trust.
To create a shared identity and streamlined accessibility between the two towers Brandywine partnered with SWA/Balsey, a New York-based landscape, architecture, planning, and urban urban design firm to design the Highline Park. The park serves as an "urban foyer," which is brought to life through outdoor dining, interactive art installations, water features, a rain garden, and dynamic lighting.